The Penang Seventh Day Birthday Photos were collections. The Penang Seventh Day Birthday is actually the big day of all human beings.
The seventh day of the New Year is the day for farmers in the olden days to display their produce. These farmers made drinks from seven types of vegetables to celebrate the occasion.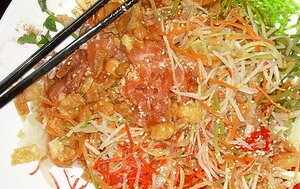 Eating Yee Sang is a new tradition on present day Chinese New Year. Yee Sang, a raw fish salad containing strips of raw fish and finely shredded colorful vegetables mixed all up with spices and sauces.
For a Chinese to eat raw fish or meat, it is not our way. This is the only Chinese dish which we know contains raw fish.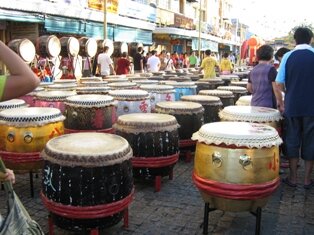 I am not sure who started this dish, Singapore or Malaysia. But last ten years it became a hit with and is popular only in Malaysia and Singapore.
So, if you ask Chinese outside of Malaysia and Singapore, they will very likely not know what Yee Sang is.Penang Seventh Day Birthday Photos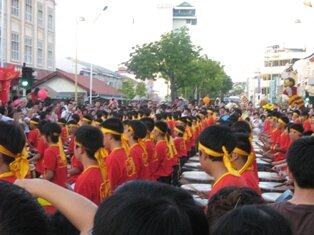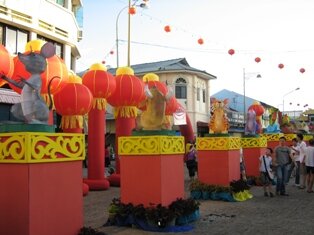 The practice of eating it is that every person around the table has a pair of chop sticks and they all toss the salad. In Chinese this act of tossing uses the word 'lou' and to 'lou sang' is to gather prosperity.
Tradition has it that the higher the salad is tossed the better, which is also why you need a large plate for this. The dish must be totally consumed by the diners around the table and nothing left over.Penang Seventh Day Birthday Photos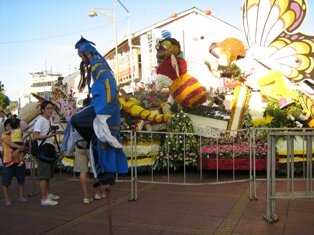 Most people speak of prosperity or wealth or something like 'lou hei' which means liveliness, prosperity and longevity, during the tossing. Noodles too are eaten to promote longevity and raw fish for success.
In Penang Seventh Day Birthday, we have more then just eating Yee Sang at home or in a restaurant, the whole family then goes out for celebration.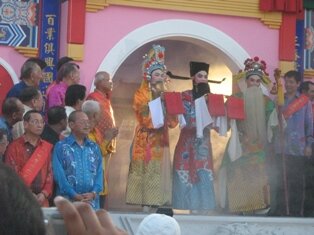 The whole street comes alive in conjunction with 'Everyone's Birthday' seventh day of Chinese New Year. It is like having a holiday in Penang, truly a Penang vacation. The highlights of Penang is usually during the Penang Festivals seasons.
Penang Chinatown, Penang colonial architectures are well lighted up and such is the sight to behold. The state made the human being birthday is Penang State Event.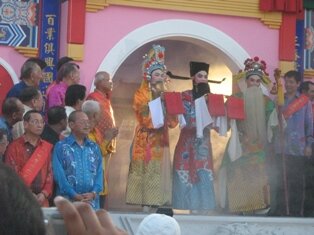 Traveling to Penang during January or February is best if you want to enjoy the rich heritage of Penang Chinese New Year or the Indians Thaipusam. In January, the Indians celebrated a Thanksgiving prayers called Ponggal.
See some photos how we did it at our home and late in the month, Thaipusam completes the festivals for the Indians.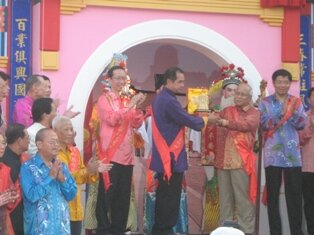 So this function would not be possible without the effort of Penang State Government, Penang Chinese Clan Council and Clan Association Youth Committee.
In a few streets surrounding the heritage compound, a hive of activity include Cultural Exhibition by various Clans, Traditional village, The Islamic Exhibition on history of Syed Alatas, Chinese Martial Arts and lots and lots.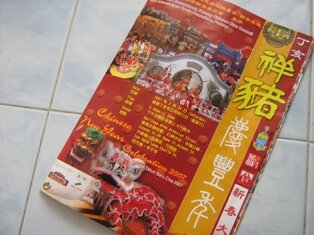 For the seventh day birthday, Penang Chinese features clans or Kongsi and their heritage. Most streets depicted their lifestyle of the ethnic Chinese clans.
Operas and unique crafts were displayed along the routes and streets of Penang. Here are more Photos.
Articles
Enlightening Articles on Birthday
Great Articles on Chinese Gods and Deity
Go to Top of Penang Seventh Day Birthday Photos Page
Back to My Island Penang Home Page