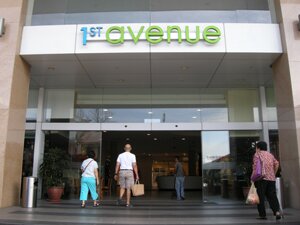 Penang First Avenue is the frequent hangout spot of teenagers and young adults. Boosting a sophisticated architecture and brilliant interior design, the only drawback to this mall is that not many visit it still.
Penang First Avenue is home to many shops selling trendy clothes and accessories. One such shop is definitely the powerhouse Coach. Baleno and Brands Outlet are there as well, and frequent sales are held there.
Baleno and Brands Outlet are there as well, and frequent sales are held there. Hush Puppies, Giordano and Esprit are just some examples of other fashion outlets here.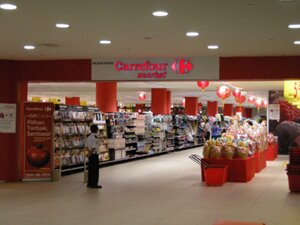 The main departmental store here is Parkson, while Carrefour is here as well. Carrefour is a French hypermarket chain, one of the largest in fact. It should be noted that this is the only Carrefour on Penang Island.
Food and beverages outlets are aplenty here. There are 6 cafés and many other restaurants. Most of these are concentrated in the basement level.
There is also a food court on the 4th floor selling a variety of food, from Western cuisine to Hong Kong Cantonese dishes. The café facing the busy Jalan Magazine is the perfect location to take a snap of the busy city life.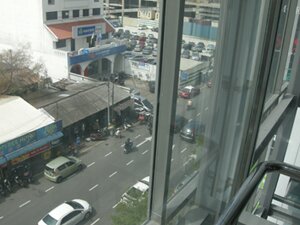 The upper level, called Cloud 8, is an entertainment haven. There is an arcade centre and snooker centre here. The cineplex here is operated by TGV Cinemas, and they have the famous cushion seat.
Last but not least, those wishing to sing their lungs out should do so in Red Box Karaoke. There is a stretch of stalls selling snacks along Cloud 8, so those hungry ones can grab a quick meal here.
One interesting point to note is that First Avenue is directly linked to its neighbouring malls; Prangin Mall and ICT Digital Mall @ Komtar. One can access these malls by using the overhead pedestrian bridge located at the 2nd level of First Avenue.
This article is written by Patrick Cheang.
Go to top of Penang First Avenue
Back to My Island Penang Home Page