The Kee Ancestral Hall sits at the front the Kee Ancestral home in Sungai Bakap not far from Penang. I hope by now you know where Sungai Bakap is. If not, go to Sungai Bakap now.
After coming out from the toll, just take the trunk road to the once Valley of Gold, Valdor road and turn into Sungai Bakap. If you go to Sungai Bakap today, the Kongsi is undergoing some renovations.
But the Penang Kee Ancestral Home still looked like a fortress in the old days of my Chor Chor Kee Lye Huat.
Surrounding the Kee Ancestral Home are the shop houses along the main road, with famous Chai Koay, Duck Rice, Nasi lemak, Chendol which finishes by 4pm every afternoon.
It is almost packed in during lunch time on the roads with big cars parking at every available space. So it is not a sleepy little town anymore.
Kee Ancestral Home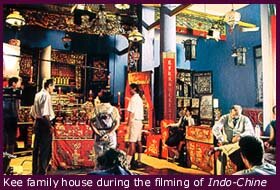 On four sides of the fortress of the Kee Ancestral Home are huge wooden doors. Uncle had to keep it closed as it is a task to open and closed nowadays without much help.
The Sungai Bakap Kee Ancestral Home is just along the main road. You get to view from the locked iron doors, a courtyard, a receiving hall and the Kee Ancestral Hall where my Kee Honourable Ancestor resided over a century ago.
The main house of the Kee Ancestral Home is built around an internal courtyard. The front portion is made up of an outer hall for receiving guests with two smaller rooms on each side.
The rear portion was and still is occupied by soot encrusted ancestral tablets encased in blackwood cupboards that were specially ordered by China.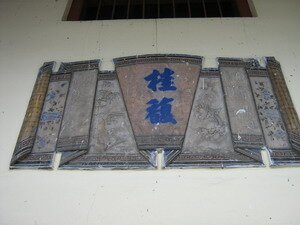 Though the mansion is big and of grand proportion, it is neither lavish nor opulent in its furnishing as Chor Chor sense of frugality is evident. However, the house was built in close consultation with a feng shui expert from China.
Such as when rain falls on the house, it trickles into the courtyard and into an underground drain built diagonally beneath the floor of the outer hall where it goes into a corner of the front square.
From here, the element follows a circuitous route around the square before its final exit into the roadside ditch. Chor Chor was advised that a protracted route for the flow of water would keep the family wealth intact.
Behind the Kee Ancestral Hall stood a row of six houses which Chor Chor Kee Lai Huat built for his six sons. Imagine the lovely courtyards in front of the six houses. Imagine in the old days, the Kee Ancestral home was filled with laughter and joy.
My aunts and uncles being young playing with their cousins from the six households, each household having over 10 kids. They had good times with their mums as in the early 20th century, mums don't work.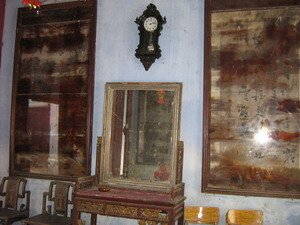 The Kee Ancestral Home is placed under our family trust and it is considered as one of Penang cultural treasures. In 1991, the Kee Ancestral Worship Hall was used as a set for the filming of Indo-Chine.
But let me share with you our Kee Heritage in parts as the cultures those days were one of filial piety and respect to one's parents and ancestors. A practice seriously lacking in our modern society.
The houses and hall has lots of history and treasured moments for my surviving uncles, aunts and cousins. It is through their eyes and ears I get to capture these rich Kee Heritage and the wonder of building the Kee Ancestral Home.
As you can see from these inscriptions, since the days of Chor Chor, the lineage for future generation was prepared and carried out. Middles denotes the generation you belong to.
Of course along the way, after the fourth generation it was not followed. For those who followed, you will know then you are the descendant from this line of Kee Ancestors.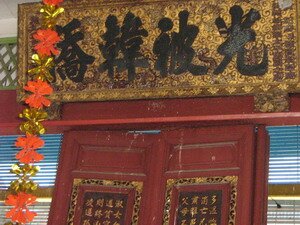 I guess a good reason why some did not follow was, they might have migrated and don't know of their Kee Ancestors History in Province Wellesley, Penang or Malaysia.
Interestingly, it took me half a century to realize and appreciate my forefathers even though I lived just over 30 mins away.
As you cross over the threhold or (mui teng), one enter the receiving Kee Clan Hall. It is not as glamorous as in the old days. But you get to see the some very old treasured antiques.
These two Chinese frame ups are very very old. It consist of a worn out material with precious words written in old Chinese. Not sure whether it was Shell and Bone or Bronze inscriptions or small seal style.
Chor Chor Kee Lai Huat like Confucius and Mencius believed a leader should possess good morals to gain the respect of the people.
Termites are all over this frames and by the next time I visit my ancestral home, it will be a new frame as told by my uncle and cousin who are managing trustee.
As the writing are so old, none of the surviving descendant could read or understand these inscriptions.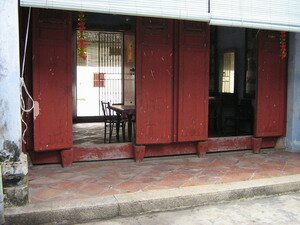 The Ancestral Receiving Hall plays an important part in any Straits Settlement house. This is the place where guest are received and entertained. Until one was closely befriended, then you will be allowed in their homes.
Reflecting each other on both sides of the wall hangs the infinity or (Feng Shui ) mirrors. In it, I get to view myself 4 to 5 layers deep. My cousin Ella saw herself many more layers deeper than me.
These infinity mirrors must be so important in those days as all the six houses, have huge ones in the main household. And it is and was important for the phenomenon symbolized the old man's wish for the spawning of generation of Kees.
The Eulogy board hanging on top of the hall reminded me of the once prosperous days of the Kee family.
As you are allowed to enter the main ancestral hall, one uses the 2 open side doors. The Main door is closed and only open for ancestor worship purposes. You get to read all the inscriptions of the Maxims of Home Management, devoted to Zhu Bo Lyu.
Chor Chor appeared to be philosophical sort of fellow for Zhu Bo Lu, Confucius and Mencius advises are being passed down from generation to generation.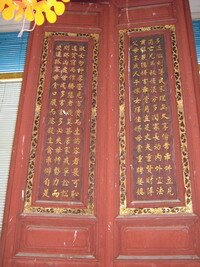 His quotations used of 24 filial pieties is translated by my aunts and uncles. Most descendant makes effort to go back to worship Ancestors on All souls day (Cheng Beng), Eve of Chinese New Year (Je Kow Meh), Chang (Dumplings) Festivals, Tung Chek (Lantern Festival) and so on.
The Threshold or Mui Teng is a piece of thick wood one crosses as you step in the receiving hall.
It has a story, myth or folklore to relate. But basically these Straits Settlement folks are very superstitious. So the Mui Teng or threshold is to ward off evils spirits.
They believed the evils Chinese spirits hops not more then 6 inches above the ground. The threshold is then higher then 6 inches.
The Evils spirits knows the laws of homes and do not enter by the main door. So when the main door is closed, there is no way for the evil spirit to enter. Ha ha, this is what my aunts shared. True or not, I do not know.
Go to Top of Kee Ancestral Home Page
Back to Kee Kongsi Cheng Beng Page
Back to Kee Clan All Souls Day Page
Back to Province Wellesley Taochiews Page
Back to Kee Lai Huat Vision Page
Back to Kee Ancestors Lineage Page
Back to My Island Penang Home Page