Further Penang Hotels covers hotels near the Southern part of Penang Island. So it is relatively close to the Penang International airport.
New Penang hotels like B Suite and Eastin is found along this curve along further Penang Hotels.
I guessed they are suitable for those working professionals coming here for short working visits. They can hop into a cab and then head home faster.
No traffic jams and hassle in this part of Penang Island as it can be choc bloc during peak hours. Further Penang Hotels can also mean these hotels are outside Penang like Seberang Perai, Butterworth, Bukit Mertajam or Pulau Jerajak.

View in a larger map
As the list is quite long, I listed the Hotels here: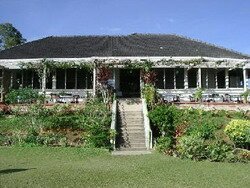 Not forgetting Penang Hill only hotel is also listed in further Penang Hotels. As a kid growing up in Air Itam, the telescope up in Bellevue Hotel offers fascinating sights of the island of Penang. Come sunset, the night line of street lights zig zag the whole Penang island to life.
Perched on the top of Penang Hill, the Bellevue is a small, slightly old hotel. But it offers some splendid views across Georgetown. It's a quiet place to rest up. At over 800m above sea level, temperatures are slightly cooler and the surrounds definitely greener.
The Hotel is easily accessible on foot, or by the regular funicular railway service. You can use the furnicular up the hill and taking a four wheel drive by road down the windy nad hilly road to Botanical Garden.
Thank you for booking with us.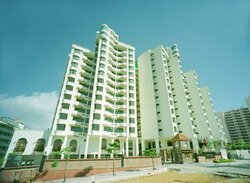 Nestled in the heart of Penang Island, the Century Bay Service Suites enjoys peaceful tranquility of being away from the hustle and bustle of further Penang Hotels.
While keeping proximity to the Penang International Airport, Penang Bridge, The Free Trade Zone a couple of 18 hole golf course and shopping arcades.
The service apartment boasts not just a prime location but facilities that equal that of a 5 star hotel. Besides being equipped with advanced audio and visual communication technology, our people are well trained to make your stay with us, be it business or pleasure, a memorable experience.
The size is from minimum 1200 square feet and above thus ideal for Family Outings.
We really want to thank you for booking with us as the earnings is for managing the sites. We aim to serve you better.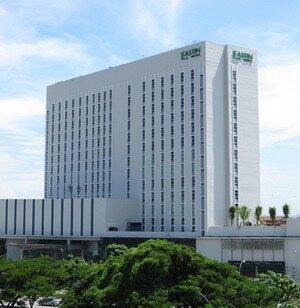 The Eastin hotel is newly opened in 12 Nov 2009. It is located about 5 mins walk to Queensbay Mall, our largest shopping mall in Penang.
It is near the Bayan Lepas airport but quite far away from Georgetown, city center and Batu Ferringhi I love the beaches.
I was told the car park has some tight corners. Hope you are a F1 driver to maneuver your way to park your car.
Location wise, it is great hotel to stay in terms of being in the southern part of Penang island.

The Krystal Suites offers a prime location as well as comfortable stay. And quality service for those visiting Penang Island either on business or leisure.
A business class hotel with 86 unit with 44 one-bedroom suites and 42 two bedroom suites.
Get Krystal Suites Penang here

B Buite is strategically located in one of the commercial hub of Penang city, with easy accessibility to Bayan Lepas, George Town and the mainland.
The location is encircled by sprawling coastline, well served by numerous shopping complexes and retail stores such as Queensbay Mail, Tesco and Jusco.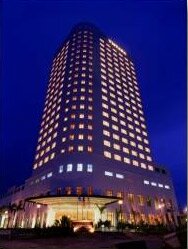 The Vistana Hotel serves its customers with a level of hospitality that compares favorably to international standards, but at a room rate that represents outstanding value.
A 4 star hotel with capacity of 427 rooms and apartments. There are also a choice between 2 and 3-bedroom apartments for those who wish residential comfort.
These tastefully furnished apartments include fully equipped kitchenettes and represent and ideal option for those longer stays.
It offers business travelers easy access to major shopping centre such as the popular Bukit Jambul Complex.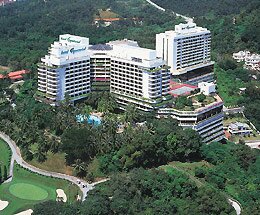 The Hotel Equatorial is perch 150 meters above sea-level. It is five minutes away to the shopping malls, cineplex, banks and Bayan Lepas Industrial Zone. The airport is just 10 minutes away.
All you need is 20 minutes to drive to the heritage city of Georgetown.
The panoramic view from the hotel encompasses the Penang Island striking coastline, the spectacular Penang Bridge and across the waterways to mainland Malaysia.
The islands only golf and convention resort and is strategically located adjacent to the prestigious 18 hole international Bukit Jambul Golf Course.
Go to Top of Further Penang Hotels Page
Back to My Island Penang Home Page