We had so much fun exploring Singapore on our recent trip. It was not a last minute decision but 6 months ago Chandra's siblings decided to make this trip to Singapore to celebrate their youngest brother, Manogaran birthday. Yeah, he is half a century young.
We went by plane from Penang. All seems smooth, the ride and service is great in Jet Star. What impressed me most is when we arrive at Changi airport.
Since we decided to have a relaxed holiday in Singapore, Chandra and I took our time to explore Singapore, at our pace. We decided to do what tourist do, site seeing the Lion City.
Changi Airport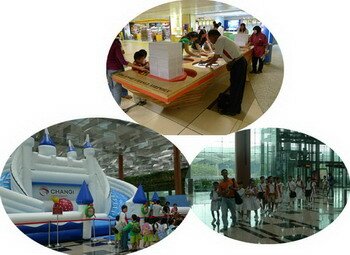 Starting form the Changi airport, we walk from Terminal One to T2 and T3. Singapore is getting more futuristic on every trip we seeing her. We took a sky train from Terminal 1 to Terminal 2 and it zoom off in seconds.
What seems heartening is seeing a few groups of students led by the teachers visiting and discovering their homeland.Exploring Singapore
Joke aside, from little tiny teeny kids to twelve or thirteen years of age, obediently lined and walking side by side listening to what the teachers who acted as tour guide for the day.
We participated in some activities of awareness for tourist at the airport. How I wish to see more of this scenario in Penang.
There were many types of flyers for you to pick once you alight from the airport. We quickly scan through what we wanted to do for the day. Singapore was on high alert due to the APEC Conference.Exploring Singapore
Singapore City Tour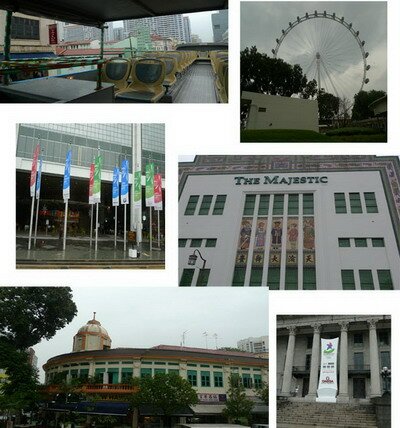 Nevertheless, we told ourselves we going to enjoy ourselves. We took a bus numbered 36 to the Singapore Flyer. The friendly driver shared some insights of happenings in town. We can't helped but admired the bus he was driving.
There were at least 4 cameras to help him perform his duty as a bus driver. 1 camera, I was told was making sure the conversation he had with the passengers were recorded in case of abuse.
1 for use for taking photos of cars using the bus lane which is then capture on air then the car drivers will be penalized for using the bus lane. But I think he mentioned 4 to 6 cameras per bus, so how many buses does Singapore have, I wonder?
Anyway, we could not get down near Singapore Flyer as Suntec City bus stop was closed due to the Apec conference, so we had to walk all the way to the Singapore flyer.
But luck was not on our side as they had to suspend it as it was raining heavily. We saw a topless bus so we asked the driver whether this is the city tour bus.
We quickly decided on a city tour which offered $15 per person for an hour ride to the city. Plus we were able to have another tour to view the cultural heritage which we both wanted to see.
Circling around town, Winnie our tour guide explained about heritage and history of Singapore. Though it was a fast commentary, we were able to grasp and understood what she was saying.Exploring Singapore
We learned the early history of Samsui women. The Samsui were spinsters who arrived in Singapore with the earliest of immigrants in the 1820s. Adorned with their trademark red "hat", they performed menial jobs in the early construction industry.
We saw many architectures quite familiar with what we have in Penang and I must say they are well preserved. Even the old City Hall had some use, a countdown clock for 2010 Youth Olympic Games.
Chicken Rice and Bottle Tree Park
On the second day, our Singapore friends took us for lunch. For me it is chicken rice all the way. Many people would laugh at my simple meal but to me, Singapore have one of the best chicken rice in this region.Exploring Singapore
From downtown after lunch, we were driven to Yishun to see Bottle Tree Park where you get to see this unique tree that is shaped like a bottle.
Those trees are not tropical trees but they survived pretty well. We really enjoyed our time with Evonne, Francis and their little son.
Nite Safari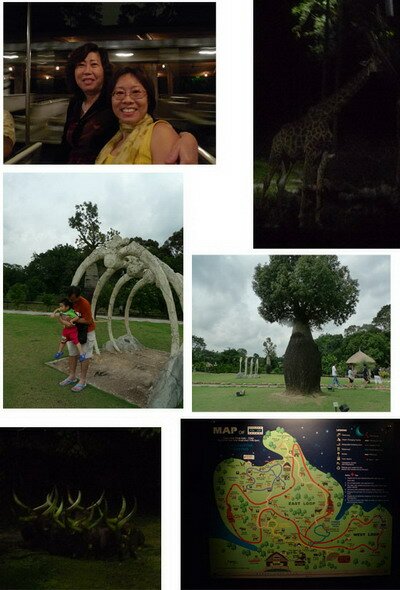 Come evening, Yoke Wah or the newly wedded Mrs Neil Thompson took us for Nite Safari. That is AWESOME! Sitting in the train with hundreds of visitors, a pretty lady trying her best to take our imagination to far away land of the wild.
It was an educational cum fascinating evening seeing tigers, lions, elephants, tapirs, bats as huge as a hawk.
The Leopard Trail walk through many get smart gates and chain fence makes our walk pretty alert and active in the dark.
We were very impressed with the state of art security. Every measures for us to enjoy the evening is all taken care of. The guide even showed us the skull of the lion which was 10 years old.Exploring Singapore
Overall we enjoyed our Nite Safari adventure. And yes, I would do it again if only the lighting were better as I did not get good shots of the animals.
I discover later there were other packages which one can enjoy the city plus some other activities all package with one price.
It would be interesting to go for the river cruise and many other spots. All you have to do is pay for one to enjoy 4 or 5 packages. I forgot to bring the flyer back but I think when I next visit Singapore again, there will be better deals.
Night scene in Orchard Road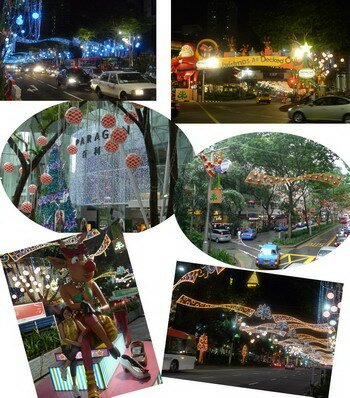 Nothings beats Christmas time in Singapore. We took the bus down to Orchard road and walk around at midnight.
Gosh, the streets were so alive and vibrant with youngster enjoying and relaxing their time away drinking with their friends. The streets decoration for Christmas in Singapore keeps tourist and locals coming back year after year.
Mano's Birthday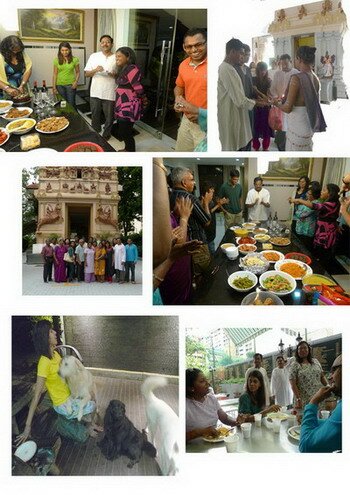 But the main highlights of exploring Singapore starts when all siblings of Chandra arrived in Singapore for Mano's birthday.
Youngest sister's Susila family, Swaran, son Saravana and fiancée Uvaraani drove from Nilai, Malaysia in the wee hours to Singapore. Next time, you join us exploring Singapore, ya!
Elder sister Saro with husband Datuk Mohan and Nivashini who just got back from Australia flew in the same day we did from Penang.
Elder sister in law Thamendi, son Vighness, Kumaresa and Subathra drove in from Cheras in the wee morning to Singapore.
And in Singapore, we were warmly welcomed by Mona, his wife Chandrika. Son Pavam who is still in national service with Aravind who just completed his O levels examination greeted us warmly.
We had delicious food bought over from Malaysia and not forgetting Emily dishing out some of her favorites.
All of us treasured the moments together, some were unforgettable. I loved the modern Indian temple with pastel color.
Mano, the 360 deg turn was a sign of obedience and spontaneously your show of respect for the elders is heartening even at your age. We wish you more happy years to come.
Go to Top of Exploring Singapore Page
Back to My Island Penang Home Page