Twisted Baked Beans is one of my daughter many favorites. She never can have enough of it. She would eat for three meals a day and still would not be bored eating it.
I cooked the family style and now my nieces and nephews loves it too. We love it with mince meat or luncheon meat, lots of cubes potatoes.
My nephew sometimes whisper to my daughter, how come my mum do not know how to cook this dish? My daughter would replied, well your mum is Indian and not Nyonya, that is why. And you are so welcome to come over anytime, says my gracious daughter.
I remembered once we were guest at home for 5 kids and 10 adults. And the kids were given the opportunity to eat first. Guess what happened? Five kids walloped these dish meant for 15 people!
And I became their favorite aunts for cooking them the second round for breakfast the next day.
Twisted baked beans dish is a cross between one Nyonya dish called Bianchee and European baked beans breakfast dish. I will give you a variation of what I add as this dish is tasted by some overseas friends and they just love it so much.
They told me I have given this European breakfast a twist. Even the cooks will have a run for their money if I decided to sell this for a living. I laughed as usual.
Ingredients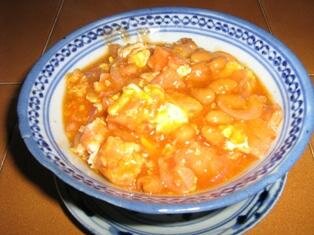 1 tin of baked beans
1 tin of luncheon meat (cut to cubes) (Desalt in salt water if you want)
2 eggs
4 onions (cut to cubes)
3 pips of garlic (chopped)
Half kat of potatoes (cut to cubes)
4 tablespoon Chilly sauce
Salt to taste
Pepper to taste
4 oz Cooking Oil
Cooking Method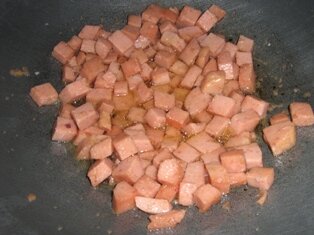 Heat 2 to 3 Tablespoon cooking oil as luncheon meat has fats too.
Pan fry the meat till firm.
Fry the potatoes till softened.
Dish up.
Fry chopped garlic and onions.
Beat in 2 eggs and scrambled together with luncheon meat, garlic and onions.
Add fried potatoes, pour in chilly sauce, salt and pepper. The secret lies with the chilly sauce. It gives the ooommph.
| | |
| --- | --- |
| Ingredients | Frying cube luncheon meat |
Variations
| | |
| --- | --- |
| When meat is firm, add onion and garlic, another variation. | Scrambled 2 eggs with garlic and onions. |
Mince meat, made into balls. Or add deep fried potatoes or use French fries. On a much more pleasant note, Twisted Baked Beans continue to be one of my family most loved traditional dishes. The popularity of baked beans may be due to the fact they are cheap to make and buy.
You know, we loved our twisted baked beans on a white sliced bread. Nowadays, this dish have begun appearing in conjunction with other foods, such as a filler inside sausages, as a side dish with bacon, or as a pizzatopping as like my kids, they loved thick toppings on their pizza.
Psst, one small secret, eating lots of baked beans can caused flatulence. Though it is not life threatening, it can cause you some social embarrassment.
And passing gas in the wrong place at the wrong time can cause great embarrassment. Don't say, I did not tell ya!
Go to Top of Twisted Baked Beans Page
Back to Lina Jam Puff Photos Page
Back to My Island Penang Home Page