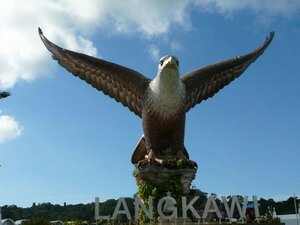 Langkawi is by many people seen as Malaysia's tropical paradise. Not for nothing, it has almost everything you can wish for in Paradise. How does one describe the 99 islands?
Tropical beaches, diving excursions, shopping for almost free, tough tropical jungles, sailing yachts and cocktails? All of this and more.
Don't get me wrong, I am no expert, but I have been several times to this beautiful island. It is located in north west Malaysia with a border (overseas) with Thailand.
Travelers from Satun in Thailand can take the ferry which takes about an hour and a half. It is a duty free zone but it doesn't mean it's rock bottom cheap.
It is a fantastic destination for individual travelers as for families. But what to do there? To be honest, there's so much to tell about this magical island, it would fill a website alone to show you everything. So let's keep it to a few great things.
Where to stay?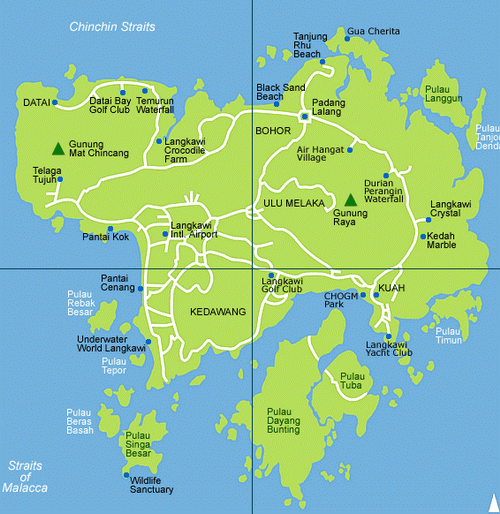 Langkawi has for every budget something. From rock bottom cheap to luxury 5 star hotel, you can find it.
Top locations are the Datai and the Andaman on the north west corner of the island with the Data Bay Golf Club nearby. In the north east two great resort operate: Tanjung Rhu Resort and the Four Seasons Resort.
However, many visitors choose a lower price range and choose for one of the many midrange and cheapies at Cenang Bach in the south west corner of the island.
Cenang beach is since long the major tourist area and I have to admit, it IS very nice. Hotels like the Malibest Resort, Sandy Beach Resort or Best Star Resort all operate within the range of in between RM 100- 250.
These resorts have beach chalets and are a good value for your money. The cheaper hotels can be found on the other site of the road.
Although the airport is nearby you will hardly hear any disturbance of the peace by airplanes. Kuah has a few hotels and although they seem to do attract quite a few visitors, I would prefer to stay at the beach.
Diving
It hosts the only Marine Park on the West coast of Malaysia: Pulau Payar. This little island is uninhabited and an excellent place to start your Malaysian diving adventures.
It's closer to Lang-kawi then to Penang, so if you are interested in diving, you probably prefer to stay at Lang-kawi. Read about the diving in Pulau Payar here.
PADI Diving Course is available for learners wanting to see the wonders of underwater marine life. Pulau Payar is conserve as a Marine Park. It is worth a visit since one is just 45 mins by ferry away.
Langkawi, book the nearest hotel here!
Shopping
Kuah, the main city at Lang-kawi has plenty of shopping centers. You will be able to get almost anything you can think of. It is dutyfree but it doesn't mean it's cheap. If you check some of the shopping centers, compare prices before you buy.
Crafts
An interesting possibility to do is to visit some Pisang Handicrafts and Art Village on the north site of the airport is a good place to check.
The nearby Atma Alam batik center has some excellent quality batik and you may find it worth to visit the Komplek Kraf Lang-kawi (Crafts Complex) on the north site of the island.
These three are well maintained shops and centers with good quality crafts and qualified knowledgeable staff but the crafts are not cheap.
Activities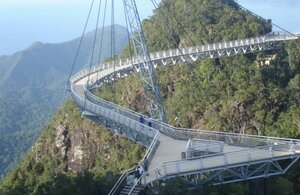 As you can expect, there's plenty to do. There are some great packages our company organizes for exploring Lang-kawi and Payar.
The island is steeped in legend and mystery and most of the attractions are the physical reminders of these legends, like Mahsuri's Tomb in the centre of the island and the Field of Burnt Rice.
Another unique place is the Cave of Legends, located on the Cape of the Casuarinas, where verses of the Quran are inscribed on the walls.
Langkawi Island has some nature highlights, which include the summits of Gunong Raya and Gunong Machinchang, the Field of Echoes, the Lake of the Pregnant Maiden and several waterfalls, the Seven Wells Waterfall being the most famous.
Other places of interest include the Crocodile Farm, Air Hangat Village, which provides an insight into traditional Malay culture and Kampung Tanamas, a local handicraft village.
The main town is Kuah, where visitors will find the most important facilities, like money changers, shopping centers, car hire, the post office and the tourist information.
And last but not least white sand beaches in blue waters with spectacular views towards some of the 99 islands of which Pulau Langkawi is the main one.
Getting around
Langkawi has a frequent bus line from Kuah to other areas, most notably Cenang Beach. The easiest way around is still by taxi. Many tourist decide to take a motorbike to explore the corners of the island.
Getting there and away
As Langkawi is such a major travel destination in Malaysia, it's not surprising that it has an easy way to reach. Daily flights to Kuala Lumpur and almost daily to other parts in Malaysia are available.
Many visitors come by ferry from Penang. There are two ferries a day to Langkawi. There are also 2 ferries a day to Thailand (Satun) and several ferries to the Malaysian mainland: Kuala Kedah (for traveling to Alor Setar) and Kuala Perlis (for going to Thailand, Hat Yai).
Exploration trip to and from diving in Pulau Payar or day trips around Langkawi are some fun ways to explore the natural splendor and beauty.
Next to Penang, Langkawi is a perfect tropical getaways for families and friends. Booked some exploration and discovery trips here.
Back to My Island Penang Home Page