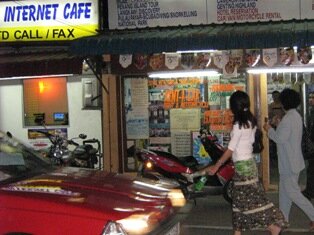 Dean bike rentals can be easily found in Batu Ferringhi. It is opposite Hotel Park Royal. If you have already booked your hotel in Batu Ferringhi, look for Dean fun travel services and rentals.
A day trip on your motorbike or car is easily arranged by Dean Bike Rentals. Just chat with this chap. He is a very friendly guy. Many of my local friends and me myself do recommend him for a car of bike rentals.
When my friends were down here, he helped us for a Penang Tour. I took lots of lovely photos during the visit.
They even rented his bike and car for fun as this guy is quite persuasive. They commented that his cars are ok and in acceptable condition.
Some common requirements
Collision Damage Waiver (CDW)
For Cars RM15 daily or RM105 weekly, Bikes RM5 daily. Negotiable monthly rates too can be discuss.
Deposit (refundable)
Besides having a bike rental service, Dean also offers Island Tour inland and outside Penang.
Some inland tours include Tropical Spice Garden, Batik Factory, Fishing Village, Butterfly Farm, Tropical Fruit Farm, Reptile Farm, Snake Farm, Diamond/ Gold/ Pewter Factory, Bird Park, Penang Bridge, Penang Hill (By Train), Kek Lok Si Temple.
If you extended your stay here, you can get Dean to helped you discover outside Penang. Places like Taiping where Bukit Merah, Waterpark, Tambun and take you to visit Oldest Museum in Malaysia.
Another choice worth mentioning is Langkawi, experience Eagle Square, Underwater World, Langkawi Cable Car, Shopping and Beautiful Beaches for swimming.
Cameron Highlands is a beautiful cozy highland holiday, you get to see varieties of flora, fauna, highlands fruits and vegetables.
Get to know some Penang Facts while you are here. You will be a little more prepared with our culture. Our monthly Penang events shows you some places where locals goes for the events or happenings in our beautiful Penang. Or maybe our multi cultural festivals in towns nearby your accommodation.
Back to the top of Dean Bike Rentals Page
Back to Penang Free Shuttle Page
Back to Traveling to Penang Page
Back to Penang Bus Schedules Page
Back to My Island Penang Home Page