The Nyonya Chap Goh Meh, the last day of Chinese New Year came to a close with modern day events. Many locations in Penang, I heard from friends were as fun and enjoyable as where Chandra and I was.
Much was published about Pitt Street and the strange Orange Throwing Tim Kum) event during Nyonya Chap Goh Meh, we thought we might as well pop in to see what was going on.
It was not too bad as there whole street was colorful. Tents, nets, 4 plastic containers were set up for the Orange throwing event (Tim Kum). In Nyonya Chap Goh Meh, the Tim Kum event (young maidens throwing) is so different now.
Way back, we would be at Coast Road or Esplanade to watch all the pretty ladies in a heavily decorated truck, open air and singing and pantun spontaneous replies by rendering Malay songs) away.
In this page, you get to read,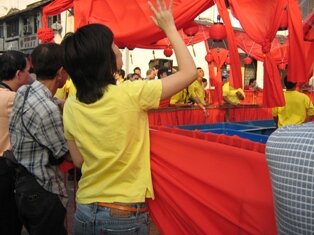 A few events were set up, so we walked along to enjoy ourselves for the night during Nyonya Chap Goh Meh. We had pretty good time. Made some friends, met old friends again, especially Tony whom I have not seen for twenty years.
Though it was sung so fast and replies are given so fast, the crowd would be laughing and clapping away. And I would just look at all this happening in pure fascination.
Dad would tell me how mum used to pantun. These were the few occasions in my life with my dad that were really happy.
It is fast disappearing, our Nyonya Chap Goh Meh heritage. Though we enjoyed the whole preparation of the occasion this year. But one just can't forget the past we used to be excited, during Nyonya Chap Goh Meh.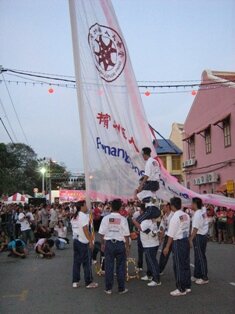 The Chin Gay procession used to be parades from different associations of the Chinese clans competing with each other to the delights of the crowd.
This year, there was just three or four Chin Gay pole bearers. But the skills they exhibited made up what I missed in my younger days.
In my younger days, Nyonya Chap Goh Meh, it was a whole day affair. I recalled sitting in one place from morning till evening. Those days, they would just parade down the streets balancing one pole and exchanging turns when one is tired.
The only competition then was who has the longest bamboos poles or thicker or heavier ones.
I remember, it was picnic day for us. My aunt would have the servant prepare food for us for the whole day. My uncle (the late Yeoh Bok Sun), would take my cousins, my sister and I to a strategic location in town, one with the best view.
Sia Boey Ban San (A market place in Sungai Ujong Road), a place quite high, no one would block our views as we were kids. How he loved us. Gosh I miss him.
We would then see the whole Chingay possession, the Taochiew husband and wife (whom it known as Bong Bai Hia and Bong Bai So), riding in the trishaw quarrelling non stop.
These Taochiew couple, they were so funny that we would shriek and laughed so loudly.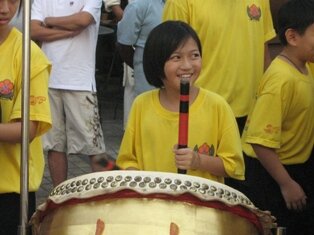 Really, if you could only see what I have seen...anyway in older Nyonya Chap Chap Goh event. It was like mardi gras, the whole town is out celebrating. Let us go back to present day scenario.
We never had heard drummers at war (compete) when we were younger. Things were a lot simpler then at Nyonya Chap Goh Meh. There was no girls participating in this event. It would be unheard of. See photos of this year drummers here.
Today, evidently of the two teams, one can see the skilled master commanding the crowd and his concentration makes the thunderous sound bearable. You could actually feel the force of driving away evil spirits.
The display of the Northern and Southern Lion was very educational. I didn't know much about the significant of Lion Dance until someone pointed out to us the differences and their purposes.
I was sure glad to be around when some men were just talking loudly. They too had their younger days memories.
Then it suddenly dawned on me it was the Northern Lion performing on the Seventh day of Chinese New year and the Southern Lions were performing in my good friend Leong's office.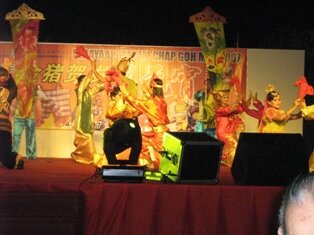 The cultural show was packed. We were packed in the crowd. I was feeling rather unhappy as I wanted to have some pictures for remembrance.
I heard over the announcement that over 10,000 people were in Pitt Street, having fun with all the other events. Locals, foreigners and oversea students were there.
I just wish there were ways to provide more seats as when you see people standing all around you, it doesn't feel nice to be the only few sitting.
Well, Tony, my friend came to my rescue. Called him on the phone to take some snaps as he was sitting in the enclosed area for special guest. He happen to be in the Nyonya Chap Goh Meh heritage team.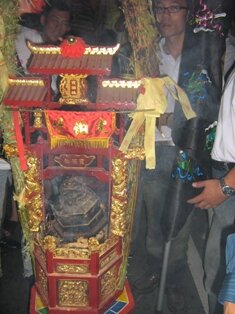 Wow, little did I know to my surprise my knight in shining armor, my Chinese Valentine pulled Chandra and I into the enclosed area.
So that was how, we landed in the special seating and have the chance to take photos. My happiest moment was when Tua Pek Kong was carried in and placed in front of me during Nyonya Chap Goh Meh festive event.
Tua Pek Kong from Tanjung Tokong is highly respected and the yearly procession goes all over town. We were at the right place, at the right time to have this opportunity to see and pray to Tua Pek Kong.
I was pushed and pushed as everyone wants to go near and pray to Tua Pek Kong. I was pushed to the front, right in front of Tua Pek Kong.
I had the chance to think what I want to pray for. That was so cool. After all the prayers to Tua Pek Kong, his entourage went to other parts of town.
Tony called us on the phone as the Nyonyas is performing in Evergreen Laurel Hotel. Excited and refreshed though it was past 9.30pm, we drove to the Hotel for the actual Nyonya Chap Goh Meh festivals.
The faster you want to reach your destination, the slower it gets. So I took time to rest and while Chandra drove. It is very accommodating of him to accompany me these few days. We found a parking place in Gurney Drive.
As he drove, I told him stories of my younger days, these nostalgic events were not important when you are courting. It only became meaningful these last few months.
He kind of understand because he is seeing them today but when was told about how it was then, he could imagine it to be more livelier.
Well, same time, he shared some of his younger days stories too but I won't share with you today. I need confirmation of some facts before penning a few notes here.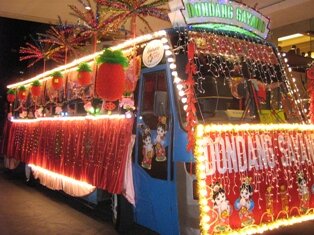 We walked to the hotel. Boy oooh boy, I was feeling on cloud nine. I saw the heavily decorated, lighted Dondang Sayang bus!!! Except that it was not the same like in the old days.
In the old days, it was open air, pretty ladies seated on the deck, waving to us all. We would then feel so happy, like we were seeing the fairies waving to us.
Sometimes, we would catch some Bungah Rampai (scented fragrance leaves) and keep them in our books. Our books then smells so lovely. Really...nice feeling. We walked in to the hotel seeing Nyonyas dancing away.
We watched a few dances and met more friends. I enjoyed the dances and songs. I know the hotel guest had a good time too during the Nyonya Chap Goh Meh.
Later Aunty Annie introduced me to her daughter. Wow. isn't she lucky, her son, her daughter and daughter in law were there in Nyonya attire with her.
I am so glad to observe she had good children. Children who are willing to preserve the Nyonya Chap Goh Meh tradition.
As for me, I will get more involved in my Nyonya Chap Goh Meh heritage now that I have met with people who are as keen as me.
It is not the end, Chandra and I received a gift from Tua Pek Kong. Two oranges and with lucky numbers. Don't believe me? ha ha. We do not usually play (meaning - buy number) the empat ekor but was happy to receive it anyway. See for yourself.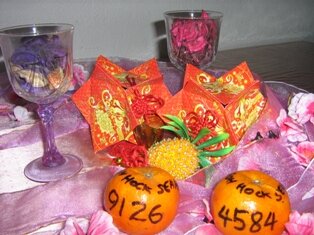 These are some of the Penang Heritage that is in dire need to be preserved. Most of the traditional cultures is what makes Penang into a heritage city recently.
To Tony, Joanne and Aunty Annie, we are please to be acquainted with you. We did have an awesome time during the Nyonya Chap Goh Meh.
Back to Top of Nyonya Chap Goh Meh Page
Back to My Island Penang Home Page