Many of our Malaysian Cookies and Cakes are derived from our traditional Malay, Indian, Chinese, Baba and Nyonya food. Recipes are generally closely guarded and hand me down from grandmother to us.As the fusion of culture ends up mixed, so does many special food. It is now treasured and and eaten during celebrations. Some cookies, cakes, biscuits and kuih muih are everlasting pride of Malaysian people.
To the Chinese, cookies are called "peah" and our Malay friends named it "biskuit". During Chinese New Year, Hari Raya or Deepavali, Malaysian cookies and cakes are presented as gifts to relatives and friends.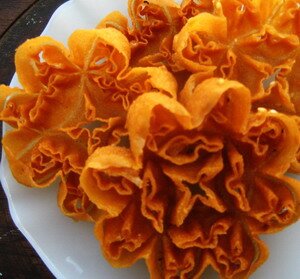 Housewives or food lovers would take this opportunity to advertise and market their cookies and cakes and shares hand me down recipes. All time favorites for Nyonyas are their Nian Gao or Thnee Kueh, Kuih Kapit, melting moments peanuts cookies and Kuih Bangkit.
For Malays the ever lasting cookies are Kueh bauhulu, Kueh loyang and Semolina cookies to name a few. And I am sure you know about Indian Muruku and the Oorende, the green pea biscuits that you can use as a stone.
Kuih Bangkit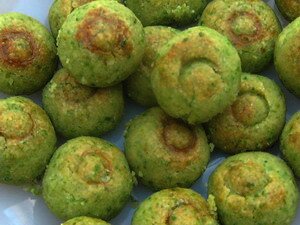 Say what you like but I still think Nyonya ladies are good in making Kueh Bangkit. It now happened to be one of the traditional Malaysian Cookies served during Chinese New Year. It is a very light and fragrant cookie that melts in your mouth.
A combination of sugar and coconut milk (santan) mixture for the dough is important in making the all time favorite of Penang. How you make the flour lighter is another secret to making the delicious Malaysian cookies. See how Ee Choo and Jessy made Kuih Bangkit. Weekly loads by boxes and cartons are delivered to all parts of Malaysia during Chinese New Year.
I remember completing an hour of holding and pouring batter on the hot mold. End result, my fingers and thigh got scalded by kuih kapit kung ku fighters of cousins who attempted at same time.
Watch how Aunty Yean chooses her coconut and santan are being grated and strained for making Kuih Kapit. Everything is prepared at home for this Malaysian Cookies.
Nian Gao or Thnee Kuih
Thnee Kuih is prepared generally for prayers to the Kitchen God. Straits Chinese homes mostly have altars for Jade Emperor (Thnee Kong), Tay Chew Kong (Guidance deity of homes) and Chow Kong (Kitchen God). The Kitchen God has this role to report to the Heavenly Gods the deeds or misdeeds of the family.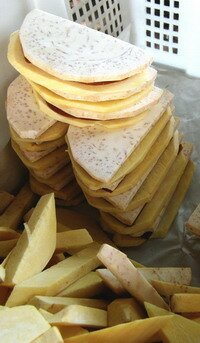 There is no escape, mothers yumble and grumble generally when they cook. Much as we were told to behave ourselves, but still moaning and crying is done in the kitchen right in front of Kitchen God.So a few weeks before Chinese New year, in order to avoid those negative reports and comments, people began offering Nian Gao or Sticky Cake to the Kitchen God.
This tradition is still practiced today despite many homes not having Kitchen God anymore. Thnee kuih is much a favorite not only with the Chinese but Malays would prefer Kuih Bakul when it is our time to offer gifts. Nothing beats Aunty Yan Nian Gao. I have high respect for this 60 year old Aunty Yean, as she makes the Nian Gao.
For you to be able to eat, Aunty Yean puts in more than 30 hours of hard work! She does it all, from selecting coconuts, to grinding the rice flour. Flour consistency is vital for the success of Kuih Bakul. I specially love my Ti Kuih fried with yam and sweet potatoes.
Jam Puffs and Tarts
Eurasian Lina joins in to make Jam Puffs and Tart for new year. If you know how much work making Jam tarts is, you will appreciate Ms Lina effort baking with so much love and warmth. See more photos of Lina rolling and baking Jam Puffs.
Jam Tarts and Puffs are very much our traditional Malaysian Food we include during our festivities. The excitement during festivals can be seen with mothers busily preparing not only for homes or gift but for packing and sending overseas. It is fun to note the buzz ling of aged parents buying these cookies because my son or daughter loves this. I must send to them. Those words tells a lot the love of our parents.
For me, when you taste it, just appreciate the hard work they put in. It is not about selling the traditional cakes and cookies. It is about keeping the tradition alive.
Tradition! Tradition! Tradition!, says Tevye in "Fiddler on the Roof".
Without tradition a man is like a fiddler on a roof.
Go to the top of Malaysian Cookies Page
Not enough of food, back to Nyonya Food Page
Need hot and spicy Indian curries?
Don't salivate, go for more Nyonya desserts
Home cooked but away from home food, try then if you are never invited to our houses or too shy to accept invitations.
Still have more space in your stomach, eat my cookies
Back to My Island Penang Home Page