Penang Tune Hotel is one of the latest addition of hotels in our tiny island. It is a limited service, budget hotel chain run by Tune Hotels Regional Services Sdn. Bhd.
If you can recall, the limited service model used by Tune Hotels is similar to the no frills business model practiced by its related company, low-cost airline carrier Air Asia.
Touted as a "5-star sleeping experience at a 1-star price ", Tune Hotel is located along Burmah Road, downtown Penang, next to New World Park and within 5 mins drive to Komtar and all the heritage sites in George Town.
Penang Tune Hotel has 258 clean and secure rooms with 5-star beds and private showers and are available. Customers may then add in the features they need, for additional cost.
Some of the available add-ons include use of air-conditioning and wireless internet access.
Service Standard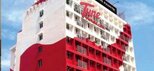 Penang Tune Hotel omit conventional facilities and services such as meeting rooms, swimming pools, business centers and gyms.
Customers self-serve and book rooms online at their convenience.
Rates are set on demand-based pricing according to the number of rooms available – generally the earlier the booking, the lower the rate.
Rooms include only the bed(s), small laptop wall bench, wall hooks for clothing, and ensuite bathroom.
As space is extremely limited in the rooms, the hotel offers a checked luggage service at additional cost

Tune Hotels lease hotel space to convenience store and food & beverage outlets as well as to spa and newsstand operators.

Tenant brands that operate in the hotels include Layla foot spa, 7-Eleven, Subway Restaurants and Gloria Jean's Coffee. Hotel space is also available for rent to advertisers (indoors, outdoors as well as whole floors) also on room walls, on room keys, in hallways and in the lobby.

Major brands that advertise in the properties (past/present) include CIMB Bank, King Koil (which also supplies the beds), Marigold, Nippon Paint, McDonald's, and Nestle.

As of June 2009 there are five hotels located in Malaysia. Bookings commenced 1st March 2007 with the launch of the chain's official website and booking engine. Its first hotel was officially opened to guests on 22 May 2007.
There are five operating hotels as at June 2009, all located in Malaysia. They are in Penang, 2 hotels in Kuala Lumpur Tune Hotel,Tune 1 Borneo Hotel Kota_Kinabalu,
And Waterfront Kuching. Two hotels in Bali, Indonesia are scheduled to open in late 2009, in Legian and Kuta. When in Penang, are you looking to learn our Home cooking, read more here.
Let me be your travel agent if you are going home or visiting other destinations. Hotel combined, an affiliation I trust has most of the hotels anywhere in the world which are affordable, even the pricey ones.
Have fun in Penang and have a safe journey when you leave Penang.
Go To Top of Penang Tune Hotel Page
Back to My Island Penang Home Page