Photos Kavadi Ceremony, The prayer ceremony were taken on the second day at Lorong Kulit Temple. That is where most skewering, hooks are performed by experienced personnel.
For Sanjif's case, his face was not left out. This would be his second year Sanjif was fulfilling his vows. There were a few things to do before they skewered their body. Photos will tell you more.
Without a doubt, prayers must be conducted. And blessing from family members are important to those Kavadi carriers. As Sanjif has invited us to witness him fulfilling his vows, we stood by watching with concern.
Hundreds were near the temple location to perform this kavadi ceremony. So in this page, I compiled a collection of photos of Sanjif, first of all, my brave nephew.
Also to pull a huge chariot, it needs the might's of at least four men. See them being skewered by big hooks.
This groups has to be at least twenty people helping them out. Helping with the traffic, steering the crowd from touching or pressing to the kavadi carriers.
Collective efforts of friends and family members that day was admirable. I could feel the positive vibrations generating throughout the festive celebrations of Thaipusam.
Then as I was coming down from the Waterfall Temple, I saw Andrew, resting after having his skewers removed. I have earlier seen him is Lorong Kulit temple.
This year seems special, as I also see youths volunteering their time, carrying the less able, old and aged up the slopes to offer prayers to Lord Muruga.
Sanjif's performing the Kavadi Ceremony








A group of four, dragging a chariot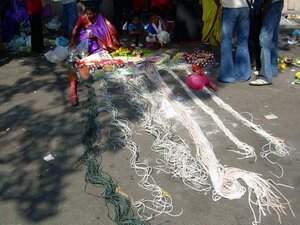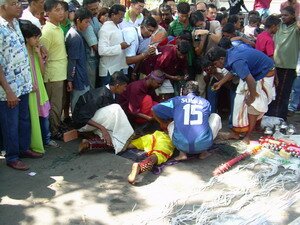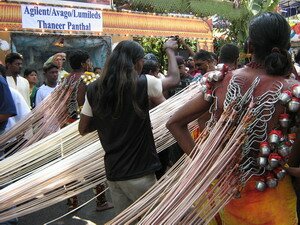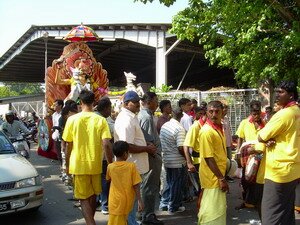 Andrew Lee - Before and After the Penance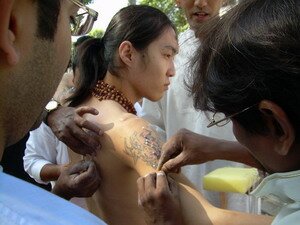 Waterfall Temple Scene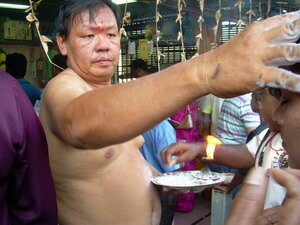 Go to Top of Photos Kavadi Ceremony Page
Back to the Floating Chariot Procession Page
Back to Places of Worship Page
Back to Penang Vel Thaipusam Page
Back to Photos of Thaipusam Vel Page
Back to My Island Penang Home Page