Lim Mah Chye, a wealthy shipping magnate of his time. He must be a quiet man making money and building his empire. Not much were written about him.
What we know about him is that he commissioned architect James Stark of the firm Stark McNeill to design Homestead in Penang. Stark McNeill is a firm responsible for many of the old houses left standing in the area during the early 1919.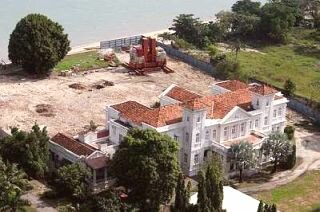 Homestead was purchased by Yeap Chor Ee, founder of Ban Hin Lee bank, the only Penang based bank, who subsequently provided for its upkeep through his trust.
Incidentally the same firm that designed Homestead designed the head office of his bank, on Beach Street.
It is said that he deliberately built his mansion to block the view enjoyed by his rival, Quah Beng Kee, who owned a mansion called Columbia Lodge right across the road (and is today the Maple Gold restaurant).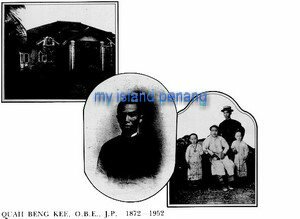 In the 1920's, Quah Beng Kee suffered financial ruins when his ship crashed into the port in Deli, Medan. He had to pay for the damages.
His shipping company was taken over by Lim Chin Guan, the son of Mah Chye. But before long, Lim Chin Guan's fortune also took a nose-dive, hit by the great depression.
Lim Chin Guan had to sell Homestead to Yeap Chor Ee, the founder of Ban Hin Lee Bank. Today the Homestead has been turned into the campus of the Wawasan Open University.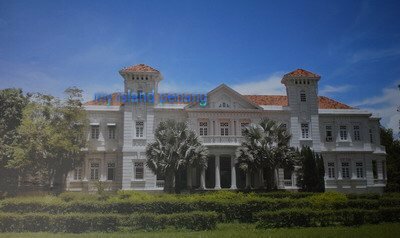 Lim Mah Chye contributed towards to building of Tan Teck Guan building, College of Medicine in Singapore 1911. His name can be found on the second stone tablet in the medical college.
Philanthropist Tan Chay Yan funded the construction of this building in 1911 in memory of his father, Tan Teck Guan.
It became part of the King Edward VII College of Medicine, which had its origins in the Straits and Federated Malay States Government Medical School.
The latter was the first tertiary institution founded in 1905 to train local students in western medicine. The Georgian architecture of this building is enhanced by Doric columns and neo-classical accents. Read more about it here.
Pearly's note: Further confirmation with the late Tan Lye Hoe and Mrs. Cecilia Lim, (sister in law to Datuk Lim) Lim Hua Chiam is the fore father to Datuk Lim and not Lim Mah Chye. So Lim Seng Hooi is also not the direct line to Lim Mah Chye.
Go to Top of Lim Mah Chye Page
Back to My Island Penang Home Page