Nyonya Lor Bak, is a favorite dish with most people. This dish is easily translated as marinated meat rolls.
And because it is marinated with five spice powder, it is then called Five spice Lor Bak or Ngor Hiang Lor Bak which is Hokkien for Five spice powder.
Nowadays you can find it sold in the hawkers center, economy food in food court, street food or restaurants. But nothing beats to original, as it is the food of the Nyonyas. Nyonya Lor Bak, is a not a halal dish as the Chinese uses pork to make this dish.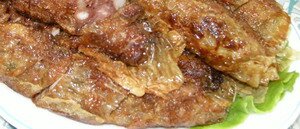 Even in hotels like Holiday Inn or Rasa Sayang in Georgetown or Beaches Hotels, one can find it on their buffet plate. For the Nyonyas, it started as a dish to prepare when worshipping ancestor during Cheng Beng or any Chinese festival.
But because it is so popular with adults and kids, it became a demand. The kids loved this as it is not very spicy and the mild five spice powder dipping sauce is a hit.
Ingredients to make Lor Bak
900 gms Pork tenderloin (Bak Tow), remove gristle and cut julienne style.You get 600 gms meat.
300 gms pork fats (bak ewe), cut similarly but thinner than Bak Tow. Blanch in hot water till firm. Drain well.
5 Tablesp Potato Flour
1 Heaped Tablesp Diced Spring Onions
3 to 4 bulbs Water chestnuts, skin and chopped
30 gms garlic, pounded fine
1 piece dried beansheet (Tau Peoy)
Seasonings to marinate Nyonya Lor Bak
1 Tablespoon Sugar
1/2 Tablespoon Soy Sauce
4 H'Tablespoon Potato flour
4 to 5 Tablespoon water. (Careful with water, mixture must not look runny)
1 t'sp salt
1 t'sp pepper (Hor Choew Hoon)
1 t'sp Black Soy Sauce
Marinating Method
In a bowl, mix seasoning with 4 T'sp water.
Add pork and fats and mix through, blending till all are well coated. Minimum marinating 2 hours. Can season overnight in the refrigerator.
Wrapping the marinated meat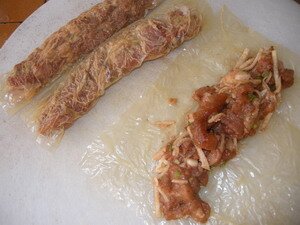 Add spring onion and waterchestnuts before wrapping with (Tau Peoy) Beansheet. If mixture breaks easily when you wrap, slowly add 1 to 3 T'sp water to bind well.
In Penang the bean sheets can wrapped 6 to 9 rolls of Ngoh Heang Lor Bak depending on how wide or narrow, thick or thin rolls you wrapped.
Placement on plate is important so do not place too close for it sticks and break. When I was in Australia, the beansheets are salty, so do use a damp cloth to wipe off the slatiness or else you end up having salty lor bak rolls.
Deep Fying 5 Spiced Lor Bak or spring rolls
In a wok, pour in 500 gms of oil for deep fying. The oil must be real hot. Immediately after wrapping the lor bak, deep fry to prevent the tau peoy from breaking.
Fry on both side but not too long. You do not want it too dry out. Drip dry off the oil before cutting and served with 2 types of dipping sauce and sloced cucumbers.
Sweet and Spicy Dipping Sauce
4 T'sp Chilly Sauce
2 T'sp Tomato Sauce
1 T'sp Sugar
1T'sp Fresh Lime juice
1 Garlic, pound finely
1/2 t'sp Salt
1 to 2 T'sp toasted Sesame Seeds
Five Spice Powder Dipping sauce
500 ml Water
1/ teasp Salt
1/2 teasp 5 Spice Powder
1/2 Tablesp Light Soy
1 tablesp Sugar
1/8 teasp White Pepper powder
1 teasp of Dark Soy Sauce
1 Tablesp Tapoica Flour
1 Tablesp Cornflour
1 beaten egg white
Method for cooking the "Lor" Sauce
Combine all the five spice powder dipping sauce ingredients in a pot.
Mix the cornstarch and water and pour in the hot pot.
As it thickens, pour in the beaten egg white and give a stir.
End results: you see white lines of egg white in a brownish smooth sauce.
Nyonya Pearl note:
You can make a bulk and deep freeze the Lor Bak. It keeps well. Nothings beat you learning how to make this Nyonya Lor Bak. Most Lor Bak nowadays I must say don't use water chestnuts.
Water chestnut in Nyonya Lor Bak takes the dish to the next level.. The usual addition in place of water chestnuts is yam or taro or jicama. It taste okay, just okay. So, better try this, it is a hand me down recipe!
Go to Top of Nyonya Lor Bak Page
Back to My Island Penang Home Page