Thaipusam Penang, a truly spectacular and awe inspiring event for all present. Among those drawn to the procession were foreign tourists.
Foreign tourists were engrossed taking pictures of locals deep in prayers during Thaipusam Penang . They were just too surprised and amazed, asking us how a Chinese can pray to an Indian deity.
Witnessing the massive crowds in all roads literally like ants or bees swarming the streets of Penang.
Chettiar Pusam started off very early in Penang Street on Wednesday morning 31st January 2007. Chandra and I were among the first few hundreds to arrive for the Chettiar Pusam, Thaipusam Penang. By 5.30am, the crowd has built up to thousands.
Chettiar Pusam (First Day)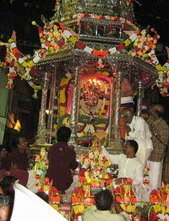 We saw Chettiars clad in loin cloth, walking into the Kovil Veedu and taking their place in the house to start their prayers.
As the crowd built up to thousands, we watched the video screen to the happenings inside the house. Continuous chanting of prayers and hymns and roll calls were heard. As the statue of Lord Muruga was revealed, all hands rise up in unison to pray.
One by one, the chettys came out with their peacock feathered kavadis ready for the journey during Thaipusam Penang.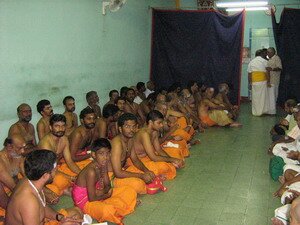 By then the volunteers started to get busy, a few climb up the silver chariot, and a few on the platform to receive the heavily jeweled statue of Lord Muruga from the Kovil Veedu to the 113 years old silver chariot.
Two beautifully dressed bulls were brought to the bullock cart and womenfolk gathered around to offer glittering cloth to tie on the bulls' heads.
Indian trumpets were blowing away devotional songs. Singing of devotional songs too was heard along the way from volunteers behind the silver chariot.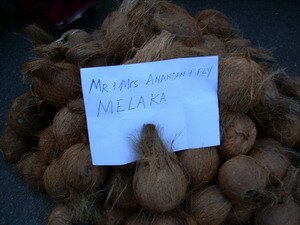 Down by the road sides, piles and piles of coconuts were prepared by the devotees. Devotees were helped by strangers as they got too tired from breaking piles and piles of coconuts during Thaipusam Penang.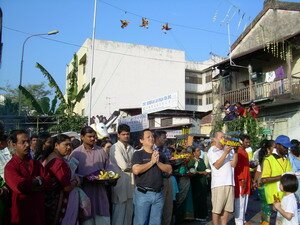 As the chariot start its journey, trays of offerings filled with incense, camphor, joss sticks, flowers, fruits and silver glittering cloth were offered to welcome Lord Muruga.
Gratitude for having babies, young parents and grandparents lifted up the child forblessing as the chariot proceed slowly thru many stops along the 18 km route to the Nattukottai Chettiar Thandayuthapani Kovil and Waterfall temple (Balathanda-yuthapani) in Jalan Air Terjun Waterfall Road)during Thaipusam Penang.
The possession was led by a police car, Chettiars flag bearers, the municipal council trucks, for cleaning the roads after coconuts are broken.
Over sixty Chettiars carried the kavadis and they led the Thaipusam Penang possession dancing and singing along the way.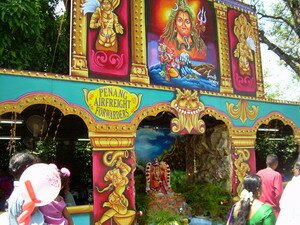 More than 100 beautifully-decorated thaneer panthals or make-shift refreshment stalls, were also set up along the route, providing free food and drinks to devotees.
Charitable Chinese and Indian families were giving bottled water, fruits, sweet, buns and prepared sweetened and sour rice during the Thaipusam Penang celebration. See more photos here.
More than 100 beautifully-decorated thaneer panthals or make-shift refreshment stalls, were also set up along the route, providing free food and drinks to devotees.
Charitable Chinese and Indian families were giving bottled water, fruits, sweet, buns and prepared sweetened and sour rice during the Thaipusam Penang celebration. See more photos here.
Thaipusam (Second Day)
Awe inspired and spiritually awaken to the power of Lord Muruga 'Why do they do it? Were they outdoing each other?' Some tourist, we made friends on the Penang Thaipusam day asked.
The tourist and locals are moved by the devotee's act of faith. Frankly, one must witness the actual piercing of the body to feel what the devotees have gone through.
At Lorong Kulit temple, they witnessed the piercing and hooking, from small hooks to big hooks on the backs and front of the devotee's bodies.
Tens or hundreds of limes, oranges, shells or miniature urns with fishing hooks are pierced into their bodies.
Indeed they have many questions but I just smiled as I have no answers. At that stage, belief and faith is all they have in their mind. No parents or friends can understand the physical endurance of being skewered and pierced during Thaipusam Penang.
I am sure, both devotees and observers will be very spiritually transformed and consider this festive event Thaipusam Penang, out of this world.
Sharon, a tourist from Britain visiting the Thaipusam Penang was moved by Sanjif's act of penance. We watched and make ear to ear conversation amidst the loud music, singing and drums of the supporters.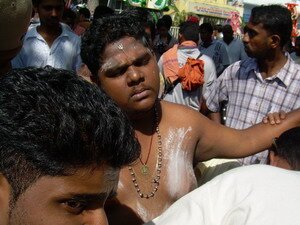 Sanjif and few hundreds went through the ritual of prayers and blessing during Thaipusam Penang. Finally at 11am, the helpers starts the hooking from his stomach upwards, working one line at a time till completion at 12.30noon.
To encourage him were his musicians friends who played, sang and danced devotional songs. Honestly, it would not be bearable without their encouragement.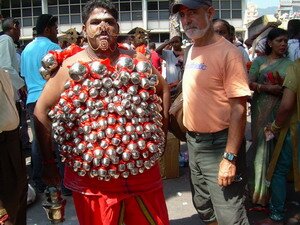 The drumming was thunderous, as the skewer was pierced on the tongue of Sanjif who says he was not in pain.
Well, as I thought over yesterday's event, I was moved and awe inspired by all the devotees putting faith in Lord Muruga. I have watched Sanjif grow up and have found him to be jovial and playful, one that is never serious.
But after yesterday, I have new found respect for him. It was really a serious act of faith.
Seeing him in trance like moments asking for Lord Muruga help to overcome the pain and his joy when it was answered really moved me. Personally, I thought he would have fainted with the pain.
Over hundreds of miniature urns is finally hooked to Sangif body and face. There wasn't a single drop of blood when he was skewered during Thaipusam Penang.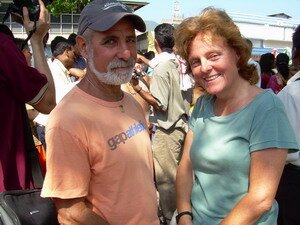 Peter and Sharon enquired whether he uses anything on his body cos there was no blood marks. The amazing powder is the holy ashes of Lord Muruga. Being curious, I went around seeing other devotees having their bodies and tongue pierced.
Over hundreds carried various type of kavadis, milk on head or tied on kavadis. From a single man journey to multiple pulling the chariot. Not surprising, professional photographers to amateur like me having a field day.
Majority was Indians but Chinese, Sikhs and visitors were going thru the trance like moments. Some groaning sounds of tiger were heard during the skewering of their bodies during Thaipusam Penang.
Skewering Process
At Lorong Kulit where the skewering and piercing ceremony was held, devotees made offerings of bananas and coconuts, lighting incense sticks and taking cleansing showers.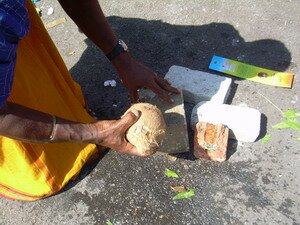 Before they began the prayers, some rituals were observed, breaking of coconuts, prayers to the stuffs and getting blessing from parents and relatives.
They proceed into the Lorong Kulit temple to pray before starting the journey to Waterfall Temple. There would have to climb a steep hill to demonstrate their faith for this divine fulfillment of their vows.
Accompanying Sanjif's entourage to the Waterfall hilltop temple were his mum Philomena, brother Suresh, sister Sumitha, cousins and some relatives, Chandra and I included.
Carrying the 'Pal Kudam'(milk pots) were British Lakshmi Love 35 and Alex Catchpole 25. They were the centre of attraction, being the foreigner who took part in our Thaipusam events.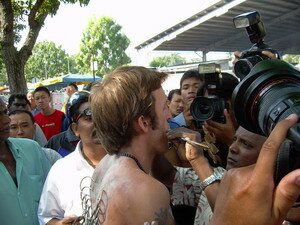 Lakshmi Love wishes for world peace and family, as he replied to questions asked about his participation. For Catchpole, Thaipusam was an experience he would never forget.
"There is nothing like Thaipusam celebrations here", says Alex. He read the Hindu culture to prepare for the event.
"People perform the penance for various reasons", said Chandra. Some prays for children. Some parents pray for the kid's education or business ventures.
Many pray for recovery from major illness. Many women pray for good husbands, and when they succeed, they come here.
People from all walks of life offer prayers or give thanks to Lord Muruga, also known as Lord Subramanian who represents virtue, youth and power.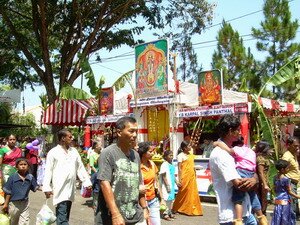 Along the way, we drank and eat from the stalls that were handling out vegetarian food. Hot drinks to cold drinks were offered.
Chandra stops in at least five refreshments panthals to drink the cooling yogurt. Serving is no joke, every food panthals were with long queues.
As we pass hundreds of kavadis and paneer panthals, we prayed in some with deities in front of the panthals. We saw volunteers carrying the aged and the sick up the hilltop temple.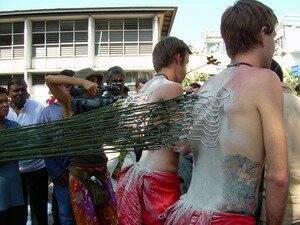 For skewering process, it was performed in Lorong Kulit Temple and Selvam Temple in Dato Kramat Road. See the recent video taken on the eve of Thaipusam. Devotees starts their pilgrimage same time bringing milk or honey for showering Lord Muruga.
It would take an hour to walk from town for some while others who started the journey a week ago as they walked from Alor Star. Some just have to climb out of their car parked along the nearby roads.
Two Hindu temples in the Waterfall area are the hilltop Arulmigu Balathanda-yuthapani Temple and Nattukottai Chettiar Temple.
They will be the focal points for the devotees to fulfill their vows, offer thanksgiving prayers and penance to Lord Muruga and donate cash in kind to the needy.
The chariot's return trip has been scheduled to start from the Nattukottai Chettiar in Waterfall at 6pm on Feb 2 and reach Kovil Veedu at 6am the following day.
The return route will cover Jalan Air Terjun, Jalan Gottlieb, Jalan Tunku Abdul Rahman, Jalan Macalister, Jalan Anson, Jalan Burma, Jalan Transfer, Jalan Sri Bahari, Jalan Penang, Lebuh Campbell, Lebuh Buckingham, Jalan Mesjid Kapitan Keling, Lebuh China, Lebuh Pantai, Lebuh Pasar and Lebuh Penang.
Removal of skewers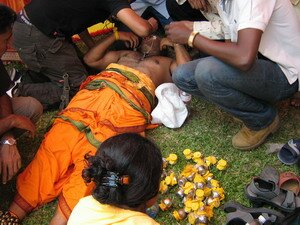 I caught Andrew an engineer from Intel, after his walk in the shed where he has just removed all the hooks.
Andrew from Sungai Petani has taken kavadis for nine years and he vowed to do his ninth year penance in Penang. This confident engineer will be doing it again next year.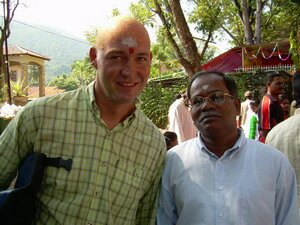 Carlos a German says it is an unbelievable event; he will never be able to forget this experience. To experience it, Carlos has his head bald and saffon powder rubbed all over his head.
Coincident or not, I don't know but Chandra and Carlos keeps bumping on each other 3 times the first day and on the second day, we caught up again and saw Carlos had his head bald.
Peter from United States has seen Thaipusam three years but never understood why the devotees go thru this penance. Cheers and have fun in Penang and Malaysia, our new found friends, Carlos, Peter, Andrew and Sharon.
Go to Top of Thaipusam Penang Page
Back to Penang Vel Thaipusam Page
Back to Photos of Thaipusam Vel Page
Back to Photos Kavadi Ceremony Page
Back to My Island Penang Home Page