The Penang Adventure Zone the first of its kind in Malaysia. It is located at the Batu Feringghi beach. It is exciting to have our own Adventure Zone. This is another Penang sightseeing place for those on vacations.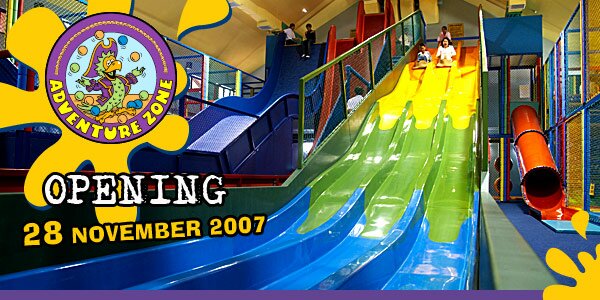 The highlight of the Penang Adventure Zone is the thrilling drop slides, available in three levels, categorized as the "Hyperglide Astra Drop," "Double Drop" and "Demon Drop" slides.
The "Hyperglide Astra Drop" slide has a height of 18 feet and a length of 50 feet. While the "Double Drop" slide, with a ball pit exit, stands 20 feet tall and has a length of 48 feet.
The "Demon Drop" slide is aptly named, offering a hair-raising ride with a vertical drop of 24 feet spanning 75 feet.
Aside from the drop slides that occupy half of the multi-storey complex, the facility is divided into three zones to cater for different age groups.
The "Toddler Zone" caters to children of 4 years' old and below, offering modular play equipment that include a padded corner climber, a spinning disc, an "over under hurdles", a tumble tower, a padded ramp, a ball fountain, a ball pool, "swinging snakes," bish bags and a play kitchen.
The second zone offers more challenging play modules for older children. These include a pull up ramp, a roller pole, an "x-changer," a padded corner climber, "over and under hurdles," the horizon roller, a ladder climb, a zigzag climber, a spinning pole and spinning step, a horizontal squeeze roller, a fireman's pole, a v-net bridge, swinging steps, "swing over nets," a tube crawl, a tumble tower and the "slither chicane".
The third zone offers additional facilities for teenagers and adults. Games include Nintendo Wii game consoles, board games, football and air hockey, pinball machines and arcade games.
How safe is Penang Adventure Zone?
It is truly an all-in-one playground for the family, catering to toddlers from two years' old to adults. It is designed by UK specialist David Taylor of Taylor-Made Play Equipment Ltd, the entire facility was built at a cost of RM3.5 million.
"It offer a high level of enjoyment for both children and adults, and have been built in compliance with all UK and Malaysian safety regulations." said Andrew Casci, the Adventure Zone's director of recreation.
The Adventure Zone is a comprehensive indoor playground housed within a 10,300 square feet complex.
Other facilities at the Adventure Zone include the multi-use reception, a retail and snack counter, an art and craft room, child friendly restrooms and two themed birthday party rooms, one has 40 seatings and the other 60.
Opening Hours
The opening hours of Adventure Zone is from 9.00am to 7.00pm daily with extension to 9.00pm, during peak periods.
Price of Tickets
Admission fee starts from RM30 per child for a 2-hour session and RM10 per accompanying adult for a 2-hour session. Pretty expensive if you ask me. But then again, it is me!
Go to top of The Penang Adventure Zone Page
Back to My Island Penang Home Page