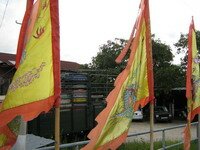 The 9 Emperor Gods celebration is quite an event in Kepala Batas is really a warm, friendly and heart of giving community temple.
I would say it is a "Not to miss spectacular event of the year" in Penang. I was told by some devotees in the Raja Uda Tow Boo Kong Temple about this Kepala Batas Taoist Temple.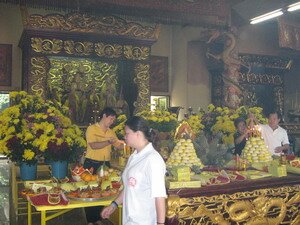 I do know it is a beautiful temple as it is next to a good restaurant where my family frequented.
I saw beautiful flags welcoming us to this beautiful warm 9 emperor gods celebration. So silky and flagging against the breeze. I must admit, I felt very welcome and pleased that we made the effort to be there.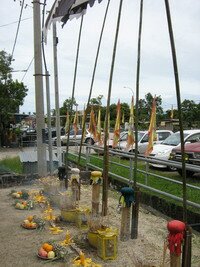 Well as in most Taoist temple, it is almost the same theme, Statues of 9 Emperor Gods, Dao Mo and the healer deities.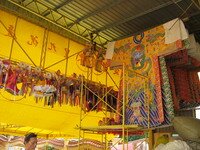 The cravings are much finer on the pillars, very sharp featured and beautiful dragon faces were seen. Architectures are beautiful and the murals depicted inside and outside the temple is well drawn.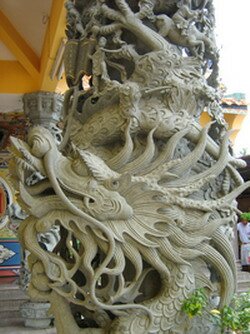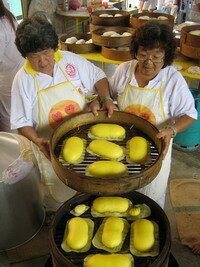 I love the inner sanctuary with a cave entrance. It does project to you a serene, tranquil place to be. Surprisingly the medical clinic for the locals is up, dormitory for man and woman participating for the festivals free and is clean.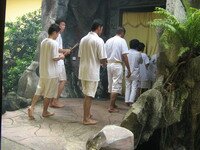 Toilets are exceptionally clean and dry. Temple surrounding is clean. I am really impressed with the devotees. And the devotees are so warm and cheerful. Everyone keeps asking us to eat.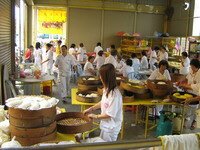 We went to the cooking area and spotted ladies busy making dough of "yellow bread" for steaming. Non stop baking and frying of mock chicken, steam bread. And then my friend, Sister Ah Boey took me to see how she fried bee hoon.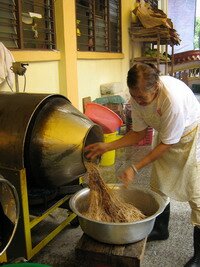 Lo and behold, some charitable business man has donated two electrical mixer for frying vermiceli "bee hoon".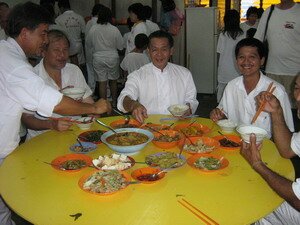 Ah Boey, my friend says, even with that, she could not cope with the demand of fried bee hoon. The temple served food non stop, almost 24 hrs for nine days.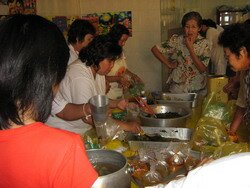 And since someone commented that they never miss going there for its sumptuous food. Why must I know it only on the eighth day, I wonder?
Anyway, I got curious and the last day, got Chandra interested and off we went to see the temple. Over 10 dishes were served on the table.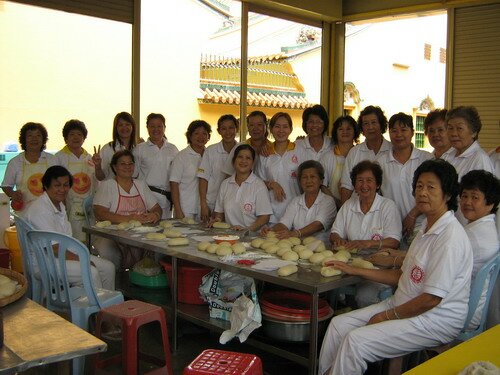 All one has to do is get a plate or bowl of rice or porridge and eat all you want. The volunteers keep replenishing the dishes. It was a real treat!
Chandra had several rounds of food. He ate till his heart's content. What a bliss, he said! The local coffee is a big PLUS! Kopi Kau anyone!
Go to Top of 9 Emperor Gods Page
Back to Places of Worship Page
Back to My Island Penang Home Page