The Penang Goddess Of Mercy, is a the temple we would go to on Eve of Chinese New Year.
Chinese of practicing Taoism and Confucianism makes their way there for prayers, rites and rituals only they know Kuan Yin Teng was built by the early Hokkien and Cantonese settlers in the 1800s.
Kuan Yin Ma, has acquired a status equal to the Buddha, I was told. Some say the Goddess of Mercy or Kuan Yin Ma's importance surpasses even the Buddha's.
The Westerners knew the deity as the Chinese goddess of love and compassion. Kuan Yin Ma, the Penang Goddess of Mercy - is the symbol of Guanyin, the goddess of mercy had continued to prosper and flourish.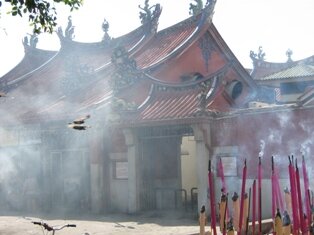 Praying in Penang Goddess of Mercy Temple, Pitt Street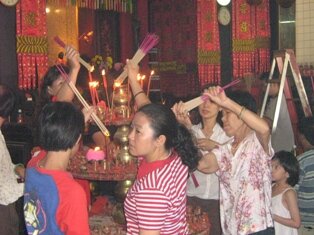 Nowadays, this temple is popular with most Chinese, not only the Hokkiens or Cantonese. Majority Chinese come to offer prayers to Kuan Yin for some good reasons.
It could be in sickness or in good health, one will go to offer thanks. The Penang Goddess of Mercy Temple in Pitt Street is believed to be the oldest temple in Penang.
During Chinese New Year, offerings of gratitude to the Goddess of Mercy is widely practiced by most locals.
See More Photos on how we pray here.
Type of prayers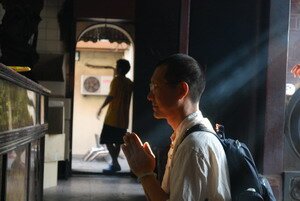 The temple interior is usually filled with the scent of sandalwood incense, burnt by devotees. Despite the crowd, you can actually feel the quietness and deep prayers being offered by devotees who goes in to pray.
As it was the time for offering gratitude, reflections of her selflessness and her devotions to saving mankind is never forgotten.
Maybe you like to read how she sacrifice her hands and eyes to heal her father. Secondly, for normal birthdays, we will pray having lived another good year healthily. But some people believed they need extra protection on certain years of their life.
What ritual when you need extra protections?
Well locals like the Nyonyas, and Chinese are too superstitious. For males, birth year that ends with a nine, like 9,19,29,39 and so on, they would request for "Por Oon.".
This is the time, they would go seek extra protection from the "God of Time" (Tai Say Yeh).Penang Goddess Of Mercy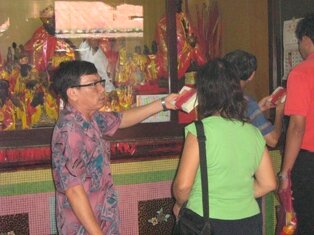 In this picture, you can see the senior man performing the rites. As he recite your name, date and time of birth and address of your home by reporting to the deity, he then brushes your face with a pile of joss paper to be burned later after the prayers.
Another pile with your name will be stacked in this part of the temple watched over by the deities.
Some will require thian ewe(offering lights or oil to Kuan Yin) for those whose luck is really being told they have to watch that year.
The temple senior would climb up the highest oil lamp to light the lamp for you and report to Kuan Yin that extra protections is needed for you.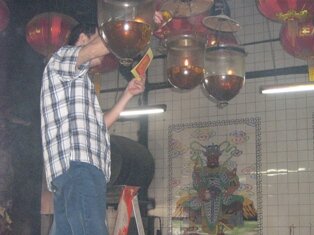 Well, you might ask how would they know when they needed extra protection? One would be told during Tiew Cheam or shaking a holy stick or they would be feeling things are not moving as they want them too.
Another purifying ritual(Sintok). I cannot forget is circling round the temple after there is a death in the family.
The whole bereaved family, led by the elders will circle the temple three times and then offer prayer and head back home to conclude the mourning.
You can't turn your head to look back as if you don't want your "sins" to follow you home.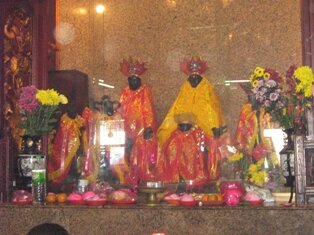 Events and Festivals
The Goddess of Mercy's feast is celebrated on the 19th day of the 2nd, 6th and 9th lunar months each year. These events denotes Kuan Yin's birthday, her initiation and the event of her attaining the state of Nirvana.
I usually make an effort to be there to see Chinese operas and puppet shows. This is a rare sight now.
Well, another favorite hobbies which is the latest craze is shooting photographs. Go in the morning between 8 to 9am to catch the morning rays entering the altar.
It is a magnificent sight as sun rays basking in, activities of devotees praying in front of the holy altar. It is a sight to behold, shoot it and you will know what I mean.
Go to Top of Penang Goddess of Mercy Page
See More photos of temple Page
Back to Kuan Yin Folklore Page
Back to Places of Worship Page
Back to My Island Penang Home Page