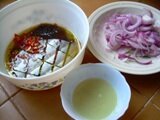 This Indian Onion Pickle, a typical Penang Indian Food is a must for every occasion. It is a healthy accompaniment to any rich oily curry dish.
Though it is an easy dish to prepare, you can find onion pickle mostly being served when you eat our local Indian Muslim or Mamak food called Murtabak.
Murtabak is relatively close to roti Chanai or paratha. I wish they use a better quality vinegar as most stalls have it too sharp. This pickle keeps very well in the refrigerator.
But in my house, we served it mostly in every Deepavali to cut down all the rich food that is laid on the table. My very old uncle advised me to cook this Indian Masak as it washes down the spicy curries.
So like a good obedient niece, this reminder got stuck and I have perfected this dish over the years.
The onion after marinating will turn pinkish. It goes very well with Murtabak and many rich northern Indian curries too!
I love it with butter chicken curry, Arabian almond chicken curry and delightfully awesome with lamb meatballs korma. The vinegar when added correctly taste so sweet and refreshing. So balance, so good.
Ingredients
10 ozs Onions, cut in thin rings, remove head part
6 Tablespoon Vinegar (S & W White vinegar)
6 Tablespoon Sugar
1 Teaspoon Salt
Method
Wash the onions rings if you feel it is too hot for you. Drain and air dry.
In a big bowl, add Vinegar, Sugar and salt.
Add onions rings to marinating sauce.
Mix well and refrigerate.
I love some variation too. You can add red or green chilies for color. Want more pickle recipes, try this carrot or beetroot pickle. The vegetables salads are a hit to my festive guest, BIG TIME!
Go to Top of Onion Pickle, A typical Penang Indian Salad Page
Back to My Island Penang Home Page