The Penang High Court was recently restored and will be opening this month, 15th April to be exact. The Court building restoration has not gone unnoticed in Georgetown. After one or two years of seeing the building under restoration, finally we were on the grounds together with the Penang Heritage Trust members.
A great briefing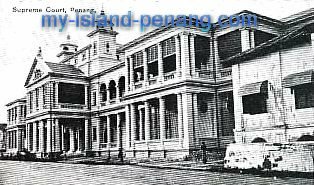 Alighting from the Penang Ferry, the high court sits in its original corner of two busy roads of Light Street and Farquhar Street. Passing it almost daily for the locals, they see the transformation of once neglected heritage to a glorious building with handsome white architecture. Straits colonial engineers of the Public Works Department did such a great job in 1905 as the building stood the test of time with two World Wars behind it.
But hey, court houses are not a place to go to anytime you like. A court houses is mostly used by advocates, judges, hearing of civil cases and law suits not forgetting criminals cases. If you do not have anything of this issues, most would not put it in "their things to do list" or part of "interesting places in Penang" to see.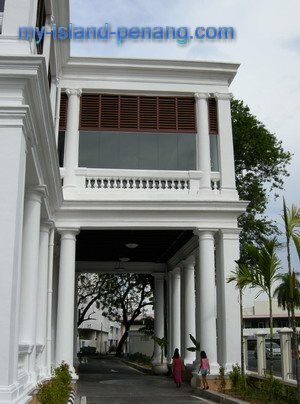 Well, as you will not walk in to see Esquire Logan , he has walked out and station himself in front of the 7 story building. Another place to see is the St George Church, which open daily till noon. If you are not keen, let me share some facts I found out when we were briefed by Arkitek Urbanisma who has the approval from the High Court.
Knowing the court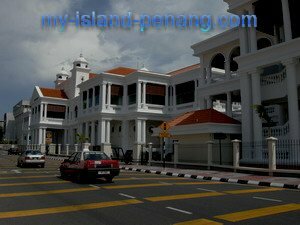 But I think you have to go and see it, at least once yourself. The Penang Court was constructed in 1905 at a cost of 206.678 Straits Dollars. Its design is based on British Palladian architecture with elements of impressive Greek Doric and Ionic columns. On 21st June 2001, it was gazette as a historical monument.
Walking the court house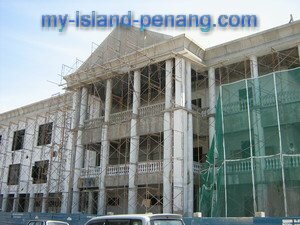 With the restorations of Penang High Court, two buildings were added. A three storied Annex building housing eight magistrate and civil courts. The seven storied Bangunan Sri Pinang has a cafeteria, six magistrate and criminals court plus 3 floors of car park.
The original Penang High Court or Supreme Court as it was called in the colonial days also have 5 high courts. So if my math is right, at any point of time, there will be at least 19 courts in session per day. Yea, if they have 19 judges or magistrates in a day to hold sessions.
Sometimes I do wonder why cases took so long to settle. Not enough courts or not enough Judges or do Penang really have so many criminals, so to speak?
Hidden gems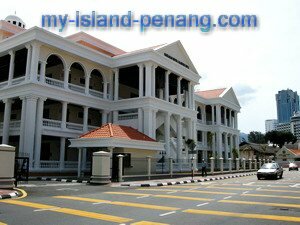 During the restoration, many gems were discovered. Among the impressive finds are, the high court judge long brown "Jati" Teak table, the solid Jati stairways, granite stone steps and tiles.
There surprising find was a huge stained glass dome right in the middle of the high court building. So I can only set some imagination with 20 over photos for you to view. Nothing beats being there yourself to admire the heritage left by the British founders.
More photos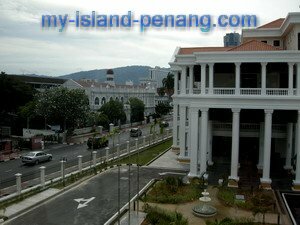 The building is beautiful. It's why we had to make TWO additional photo pages. One page is solely dedicated stained glass dome, the other has a series of additional photos of other part of the building which the architect found hundreds of artifacts.
Go to Top of Penang High Court Page
Back to Penang Court photos Page
Back to Photos Penang Court Page
Back to Penang Goddess Of Mercy Page
Back to Penang Sri Maha Mariamman Temple Page