Photos dough sculptures, my greatest joy is sharing with you Master Xu Shi Ying's work. One can only be awed by the talents of the great master.
He produces all the time new masterpieces, one at a time, slowly and patiently. The photos published here are made courtesy of Master Xu Shi Ying. Feast your eyes on Master Xu's creation.
In fact, Master Xu pieces are widely in demand as he has perfected the dough making to last more then a few years. Look at some of these pieces sold last year. It is possible to let Master Xu create your own dream dough figurine.
Talk to Master Xu of your dough sculptures dream and he may be able to create your personal dream in dough for you. Some of the dough figures in the photos below are the result of peoples dream.
When I met him again recently (Feb, 2012)in Penang Times Square, we spent some time talking about his passion. As I could not speak Mandarin, I was fortunate to meet a good friend of Master Xu. Photos Dough Sculptures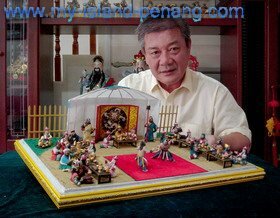 Mr Tan, a local who kindly translated our conversation. I observed some awesome masterpiece being displayed and was told he could not part with them. I asked Master Xu, was it because the price offered was too low?
He said many people offered good prices but they are not prepared to wait for years for a new piece. These are his pride and looking at it daily inspire him to go on. So I guess, he has being kept busy with many demands.

He then explained some of the masterpieces takes at least 3 years to complete. Deep in my mind, my respect for him grew. I can't matched his love for art and heritage.
I was very fascinated by some of the sculptures as being an old soul, I still treasure the stories my uncles and aunts relating stories about some beautiful myths, legends or folklore of the Chinese.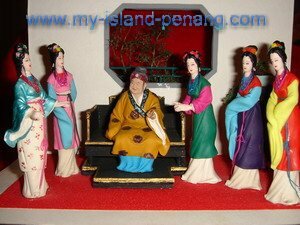 Stories about Justice Pao always reminds me of his dark black face and the white crescent moon on his forehead. To me it was like his third eye, really. It is as if he can look through you. Photos Dough Sculptures
His famous actions after verdict is given is throwing the card at the accused. Execution by guillotine terrified and shoked us up as we watched the performance on our black and white television.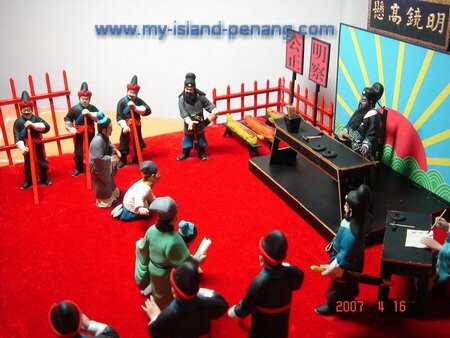 One of stories how he saved a wife of an unfaithful husband in Chen ShiMei stuck my mind till today. He became my hero till today.
As I watched him working quietly, I decided to spent some time there. At some time, he would look up and enquire whether my knowledge of the folklore's.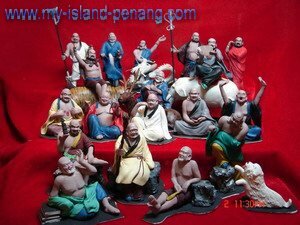 Well, I told him, we grew up listening to stories of 8 immortals crossing the sea. Or Lady precious Stream and her lover, Kuan Gong, Monkey God and many others.
Oh! boy, I know what he is thinking so i told him the Chinese in Penang tries their best to keep the culture alive so really my knowledge is very little. So people, be prepared to wait in queue.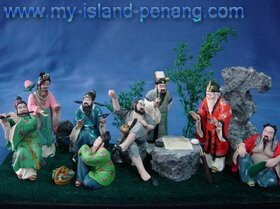 So he has helped us in many ways to remind us of our Chinese heritage. For some interest, 1 piece may take days to complete but a museum piece will take months or years.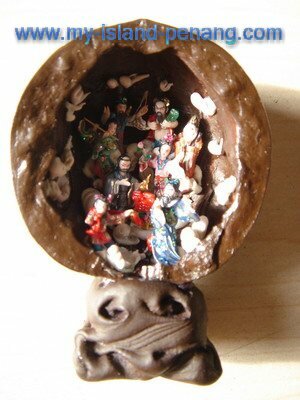 Again, my deep admiration goes to the master. A man in his seventies but hands and fingers as firm and steady. I bade goodbye and thank him for spending some of his precious time with me.Photos Dough Sculptures
Go to Top of Photos Dough Sculptures Page
Back to Dough Figure Sculpturing Page
Back to Chinese Paper Cutting Page
Back to My Island Penang Home Page