This signature dish of Sambal Chicken is cooked with serai or lemon grass. It leaves a tinge of fresh lemon grass in your kitchen when you cooked this dish.
My friends Aziz and Roziah, nasi lemak sellers never failed to keep his customers coming back for more, almost daily. You can served with plain rice, Roti Jala or any bread. The Chinese, Indians or Nyonyas version is relatively closed to this recipe.
A little match making blending the equal amount of fresh herbs will end up having the right malay food chicken dish. Personally I have cooked this on many festive occasions. This is not too rich as we do not use santan but tamarind for this dish.
Ingredients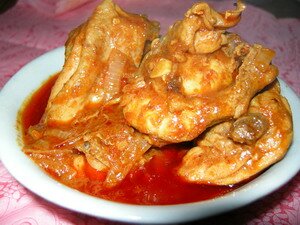 1.5 kilo Chicken
2 Tablespoon of Tamarind Pulp mixed with 1 litre of water
2 Tablespoon of Sugar or to taste
3 Tablespoon of Salt or to taste
6 ozs Cooking Oil
Pounded Ingredients
20 gms Galangal (Lengkuas)
15 gm turmeric (Kunyit)
10 gm ginger (Halia)
20 gm Candle Nut (Buah Keras)
200gm Shallots (Bawang Merah
20gm Garlic (Bawang Putih)
10 gm Dried Chillies (Chabai Kering)
1 inch square Belachan (Dried Shrimp Paste)
1 Kaffir leave
1 lemon grass (Serai)
Cooking method
Heat 6 ozs Oil to saute the pounded ingredients.
Saute for 5 mins, then add kaffir leave and crushed serai.
Stir fried for further 2 mins, add chicken.
Simmer with strained tamarind water.
Add salt and sugar. Use medium heat throughout
I love this lemon grass chicken dish. It is not too creamy to eat with rice. Try it one day for lunch and never again the kids or friends will say you don't know how to cook curries.
Go to Top of Sambal Chicken Page
Back to My Island Penang Home Page