See Chap Goh Meh Valentine Photos this year 2007, and knows that this is not the traditional way to tim kum. The last day celebration of this event but a poor reminder of the good old days when orange throwing is held in Esplanade.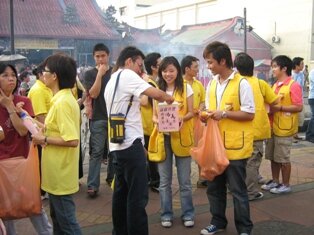 But one of the most regaled stories of what Chap Goh Meh is about has to be its age-old significance as the Chinese version of Valentine's Day.
Chettiar Pusam started off very early in Penang Street on Wednesday morning 31st January 2007. Chandra and I were among the first few hundreds to arrive for the Chettiar Pusam, Thaipusam Penang. By 5.30am, the crowd has built up to thousands.
It was not held in Esplanade like other years. It was not held on the beach. Not near the sea at all, but right in the middle of town. in front of Goddess of Mercy Temple in Pitt Street.Chap Goh Meh Valentine Photos
Many people are surprised when it was pointed out that Chap Goh Meh originated from Penang and not China as commonly believed.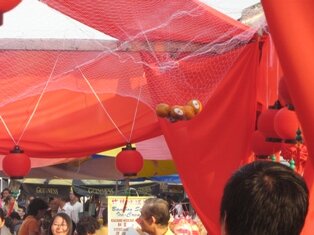 How can they do this?
An orange throwing, a vow pool, (make a wish and you are granted) with four plastic containers decorated with red cloth with nets spiraling down so that your lucky oranges can roll into the water. Believe me, that is present day Chap Goh Meh Valentine day.
And who do you find on duty to catch the oranges?
Middle age man, no young man. But the young men were outside doing their charity work. Well at least, I won't mind paying for the oranges in the hope to catch a good husband.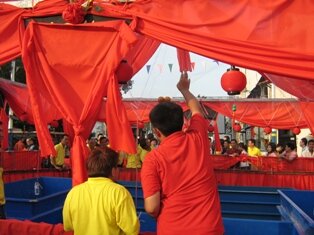 But no, I saw ladies, men and kids buying and throwing oranges. Alas, no dashing man looking longingly for young maiden. But I did see young maidens writing their hand phone number on the oranges.
These are some of the Penang Heritage that is in dire need to be preserved. Most of the traditional cultures is what makes Penang into a heritage city recently.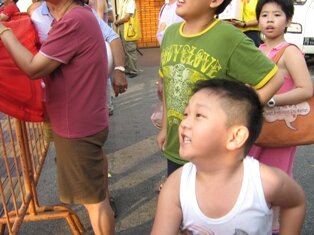 Tim Kum, Chua Hoe Ang
Tim Lor Kor, Chua Hoe Bor
(English translation)
Throwing oranges to get good husband
throwing drums to get good wife.
Go to Top of Chap Goh Meh Valentine Photos Page
Back to Nyonya Chap Goh Meh Page
Back to Dondang Sayang of the Nyonyas Page
Back to Drummer and Chingay Page
Back to My Island Penang Home Page