A recent talk about Penang Tramways got us all excited remembering the Old Penang. Dad used to tell us about Penang in the "HEY DAYS".
How he drove around town in his Chovelet with mum, my brothers and elder sister Mona. My sister would keep asking for permission to ride in the Penang Tramways.
And dad would said no as the trains and trolleys buses were not suitable for young girls. If you must know, in those days young girls need to have chaperon and they can't wander about town like I do now.
My father reminisced a lot about the younger days when things were as he said "so much fun". His idea of fun must be really fun, I suppose as I sat listening to a recent talk by Ric Francis.
Ric Francis was here at the invitation of Penang Heritage Trust to share with us how he built trams for Australia. An Engineer by profession, a builder and author of Penang Trams, Trolleys buses and Railway, he does know his stuff.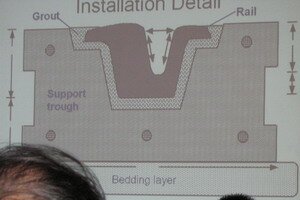 Well Ric Francis is no different from dad as he too talked about Penang in the good old days. How the trains were used to transport the early immigrants from one town to another.
He then went on to share the trains used in old Penang and other parts of the world. The best news is reviving the trains in Penang, and there is no need digging up the junks of the road.
By installing a narrow link just enough for the trams to pass in the modern way is real great news. Ha! Ha!, hopefully it will improve the traffic congestion we have today. Penang can get crowded with massive traffic jams when digging starts.
Can you imagine in the good old days, 50 m of tramways line around towns was considered "FUN!" What Ric who is also from the Lions Club found out was in year 2004, 50 m of Penang Tramways links were dug out.
He found it in great condition and useable. Fortunately, nothing was thrown away, pure good stuffs of the 20's.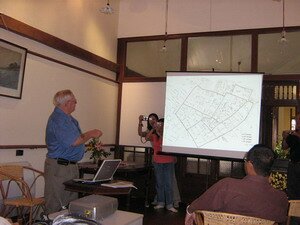 His presentation of building tramways will be done in 4 stages. Plans and proposal will be given to the Penang authorities soon as he gets home to Australia.
Ric believed in sourcing for good quality durable stuff. According to Lion Reg, as the nuts and bolts are major parts of the tramways.
We got excited when he shared the 4 stage proposal how it could be built. First stage covering the initial 50 m, circling the heritage routes.
Lion Reg pointed out how we could actually conserve our fuel and helps to reduce pollution. It seems one tram could keep 55 cars off the road. Read more from here.

Listening to Lion Reg's presentation, my mind starts to wonder. Won't the wires be unsightly, on our heritage buildings?

But modern wiring systems will be built with the end in mind.
As Penang is full of rich heritage of the good old days of East India company, the Strait Settlement and Captain Francis Light, care has to be taken not to block or hinder our views as the trans passes through towns.
Even our physically challenged friends will get the opportunities to use these Penang Tramways. We were told cost is not high as the operation and maintenance are light weight. Penang people wishes to revive the tramways and bring back some good old days.
Back to Penang Introduction Page
Back to Les Chang Tribute Page
Back to Malaysia Calendar Page
Back to Cycling to Penang Page
Back to My Island Penang Home Page