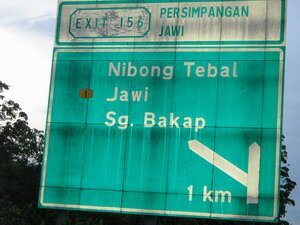 Sungai Bakap, and Valdor my great great grand father's valley of Gold is situated 30 kilometers away from Penang. If you are traveling on the highway, use Km156 exit to reach the town.
From the toll, you will come to a traffic light for turns to Nibong Tebal or Sungai Bakap. Take the right turn and proceed another 3km before reaching the town.
Why I am telling you this, I sometimes got so excited that I make a wrong turning. You will pass towns like Valdor but not Sungai Krian. Once you reached approximately 3km, on your left you will see a Dunlop shop.
That is where you take a right turn in to Sungai Bakap town, where the Kee Ancestor home is situated. Surrounding towns are Nibong Tebal, Parit Buntar, Bukit Tambun, Simpang Empat and Batu Kawan which is the old Province Wellesley.
Not much has changed in this little town, life is still laid back. It is not much in the way of tourist attraction but it does have some good food like Chai Koay and Duck Rice.
There is a 140 years Chinese temple Kwong Hock Keong, which is the oldest temple in the town.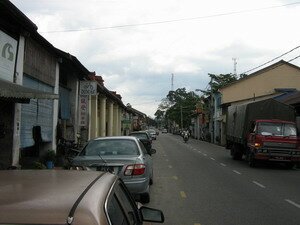 Way back (Chor Chor) Great great grandfather (if you have read why I referred him so) settled down after he married the Khaw Bee Gek, daughter of Batu Kawan pioneer Khaw Lau Hup.
Being very frugal, he purchased a swamp land from a French businessman and built his township. He worked very hard to make the swamp land feasible for sugar planting.
That was how the town Valdor was born. Valdor in french means "Valley of gold". My uncle told me recently, "When the sun set and shone on the plantation, the entire Valdor turned golden in color". It was as if the land was basked by the sun.
Those were good times for the Kee family. Chor Chor being very traditional and filial built the townships. Same time he never forgot his homeland. He hired coolies from China to construct the township.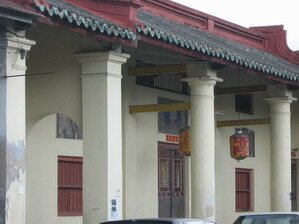 He even bought his homeland Thenghai deity over here for worship. The ancestral home and six houses for his sons to live together was built. Not only that, he replicated his new homes to that of Manchu China.
Presently the town have changed very little. The theater was torn down and stood a new building. Present day, the Kee Kongsi is still undergoing some renovations works for the ancestral hall.
The surrounding walls was erected due to losses of some artifacts. My few uncles and aunts still lived in this over 130 years old Kongsi.
Till today my uncles and aunts diligently took care of the Kee Ancestors. They did it through periodically offering food. I am so fascinated by these worship during modern times.
Chinese New Years prayers, Cheng Beng Prayers, Chang festivals and many more are still observed faithfully by the trustees for the Kee Kongsi.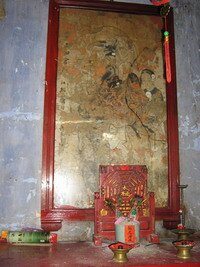 Taking care of the ancestral home is no mean feat. The Kongsi has trustees of the six houses presiding a yearly change. Every household has an opportunity to be the managing trustee for one year. After which it will be taken over by another household.
As I listened to stories from my Kee uncles, I am proud that Sungai Bakap, the valley of gold was built by one man's dream way back in the 19th century.
Following Chor Chor Kee Lai Huat's death in 1892, at a young age of 58, Lady Chor Chor took over his vision. Her success were not easy as Malaya was going through the late 19th century changes.
The surrounding towns of Province Wellesley by then is being discovered by many other pioneers. Tin mines and rubber became another business to know. And single handedly she grooms her six sons and two daughters to further success and wealth.
Go to Top of Sungai Bakap Page
Back to Kee Ancestral Home Page
Back to Kee Kongsi Cheng Beng Page
Back to Kee Clan All Souls Day Page
Back to Kee Lai Huat Vision Page
Back to Province Wellesley Taochiews Page
Back to Kee Ancestors Lineage Page
Back to My Island Penang Home Page