Dine with Pearly will be a wonderful experience, be it a local or someone on holiday who wants to know about our way of life. I guess we have to be proud as my overseas guest are impressed or fascinated how we can lived harmoniously together. (They are meaning our people, Malays, Chinese and Indian being the majority and not forgetting Eurasians, Indian Muslims or others).
As a proud Penangite, I always feel flattered and talk non stop when the topic starts and rattle on and on. My niece (Kok Lynn) who now join in some of my cooking classes or meet up whenever I entertain is a replica of me, in my younger days. She would smile or cheekily asked her mum for confirmation.
Penang has been my home since I was born. My uncles, aunts and the elders in our family loves telling us stories. It can be any stories that suit the day or hour. They seemed to have a lot to tell. I guess that was what makes me love to talk, or "cakap banyak".
I am not the only one talking now as we have 3 story tellers as sometimes Chandra and my sister (Junnie) needs warming up. So what do they do? They make me repeat some highlights if I forget to add.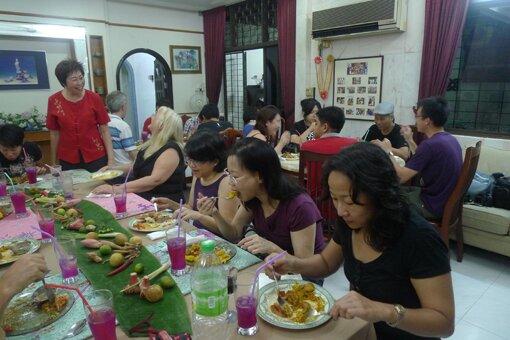 A monthly dinner session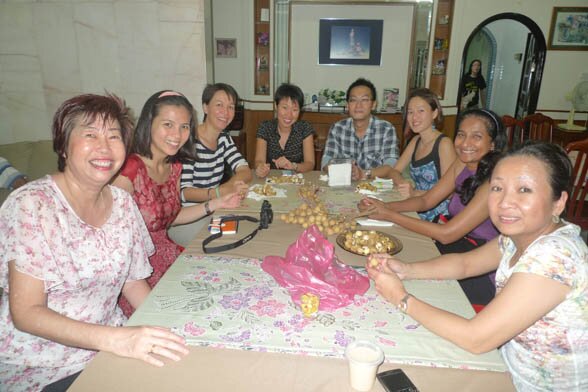 My publisher, Rozalind Chua though chats and sit with me as often as she can, feels she never had enough of my stories. Each and every time we meet, she would say "come on, you got to share this or that".
I always tell her these are old stories, for the locals it is like records playing non stop. But she keeps reminding me to share. So I do not know whether it is good or bad or talking too much.
Anyway, that was how we started to churn the idea to have a monthly dining session (earlier discussed was weekly, OMG I said stick to monthly or my stories will run out).
The Food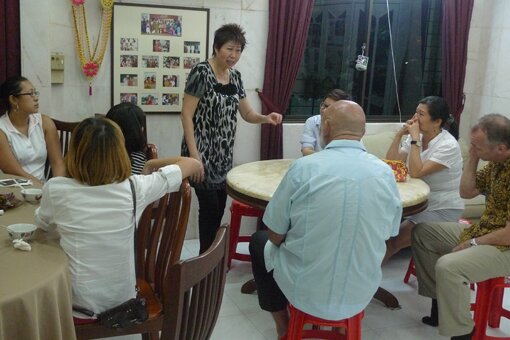 Nyonya cuisine is indeed fun as you dine with Pearly. Every month, I will cooked dishes I eat since I was young. Some of them can be so simple and easy yet the flavours and taste is mind blowing. My menu states 4 to 5 at the least, but if I have the strength, I usually add more or my OC (officer in charge) remind me that I am just 1 person prepping and cooking. And immediately I know when to stop adding.
Some of them are so laborious that cannot be taught in a normal cooking class. So in a way, the idea to have a monthly session is good as I am able to cook some very old comfort food that I eat when I was young.
I still believe in cooking the old way, a dash of love here and there. So when you eat and it taste so so good, you know it is LOVE, ya.
We had our first dinner in April and we cook quite a fair bit for all to at least sample once. But I cannot believe my eyes as the story telling starts, one by one creep out to get more food.
Who can book the dinner?
August dine with Pearly is on 24th August Saturday 7.30pm

See dine with pearly's menu as word by mouth invitation came faster then my hands could write the article. Dishes include some old forgotten dishes like Durian Pengat or some dessert like Bo Bo Cha Cha, blue rice using our Butterfly pea blue flower or Bunga Telang.
Anyone can book the dinner. Write to us to tell the month you are coming with a small deposit (RM10 per person) or full payment (RM50 per person).
I am comfortable with 20 people. Reason being, I have to tell stories and do not use a loud speaker. So I want to keep the entertaining going. You might not know what I am going to do. So first booked and locked a place for you is important.
Better we are straight forward to say this, if you are going to book for 10 people, others can still join in unless it is a request for a private class. My maximum for the dinner is 20 people. From past experience, dishes may be changed if someone write politely for something they crave.
Private dinner can be arranged so long as ample time is given to me as I teach most days in the morning.
Check the monthly dinner here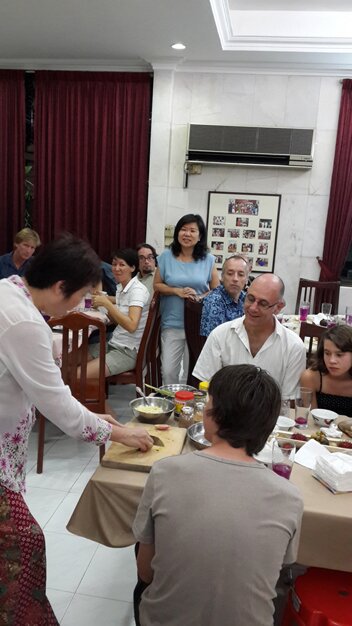 Some great friends came for dine with Pearly and they blog about it. Most are locals so you know how it is like to cook for locals. Their grandmother is my yard stick, so poor me.
Sharing Nyonya food in Fun Bee Park, Brunei
My recent invitation was the highlight of the year. Fun Bee Park Cecilia Lee came to my home to learn. Little did I know this petite lady is a dynamic and a socialite in Brunei. She was so excited by our sharing and she can see how crazy and passionate I am about our food. Her parting words before leaving my home was, you will be hearing from me soon. The next thing I know, Chandra and I flew to Brunei with no great expectation except to share our heritage food.
I must tell you she makes me feel like a STAR!. She treats Chandra and I like a star. We were so priviledged and humbled by her.
So I say, Cecilia I take my hats off to you. Do come and dine with pearly one Saturday. Thank you for such a grand reception and making us feel so welcome. Sam, your son is an AWESOME boy.
September Pearly's makan - 28th September, Saturday 7.30pm

October Pearly's makan - 26th October, Saturday 7.30pm

November Pearly's makan - 23rd November, Saturday 7.30pm

December Pearly's makan - 28th December, Saturday 7.30pm

We will meet soon! I know you will love to dine with Pearly.
Go to Top of Dine with Pearly Page.
Register or book a class here.
See our cooking work station set up here.
Back to My Island Penang Home Page.