Chor Chor Kee Lai Huat Vision was to ensure all his descendants stayed together. He founded the Kee Poh Huat Kongsi and built it as family residence in the same replica in China.
Chor Chor was part of the Chinese immigrant, the Chinese Coolies who landed in Batu Kawan, Province Wellesley.
Kee Lai Huat worked very hard to give his family a good life in Sungai Bakap. Times were more settled after the signing of Pangkor Treaty in 1874, end of the Larut Wars.
Chor Chor Kee Lai Huat vision materialized despite all the upheavals during 1860 till his death.
A generous donor to charities, Chor Chor Kee Lai Huat vision built the Sungai Bakap township together with Lau Kuang Mia and Tan Ah Pow in the 19th century.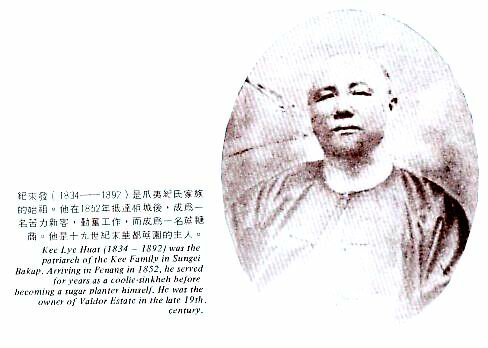 Two years before his demise, Kee Lai Huat appointed as a member of Chinese Advisory Board. The township were prospering, money coming in from the rentals of houses surrounding the Kongsi, the coconuts plantations and a few more business he was in.
Even words reached the Imperial Chinese Manchu Government. For his many acts of greatness the Manchu Imperial Government conferred on him the title of "Mandarin, Second Rank" retrospectively for two generations.
Chor Chor, his wife and both his father Koe Choe Imm and mother became Mandarins of the Third Rank. You can see four big portraits of them hanging in their impressive mandarin suit in the main ancestral hall in Sungai Bakap.

Chinese screens, scrolls, eulogy boards, a set of wooden weapons and square boards on poles reminded me of the old Chinese movies I have seen on movies or television.
These were used each time there was an official appointment. Announcements were made the same way it was done in China. The ceremonies was one of splendor. And Chor Chor Kee Lai Huat Vision came true.
Chor Chor Kee Lai Huat virtuous capability is hard work. His determination to lead a frugal life is still very pronounced till today.
With a motto one cent saved is a cent earn, he purchased over 1000 acres of swampy land and did what he knows best growing sugar cane.
It was not surprising, as he was running over 2400 hectares of the Batu Kawan sugar plantation belonging to Khaw Boo Aun.
One wonders how he does it running over 2400 hectres of sugar cane for Khaw Boo Aun, son to Khaw Lau Hup. Then toiling on his own newly purchased 1000 acres of swampy land.
I guessed he has too, as in 1860, the Teochiews or Teochew communities were owning over 20,000 hectares of sugar cane plantation from Province Wellesley to Perak.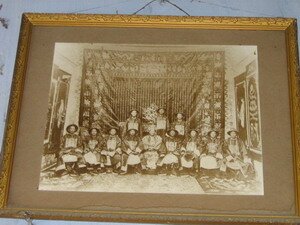 Same time, he must have acquired good discipline from his strong headed brother in law Khaw Boo Aun who was the leader of Ghee Hin.
Khaw Boo Aun's word was LAW and he was most feared. "As the saying goes at that time, not even a bird can fly out of Boo Aun's estate due to the tight security imposed."
With the experience he gained as a sugar cane plantation supervisor, he worked very hard to toil the land. One day, he was called up by the his boss and told that he has been chosen to marry his daughter, a girl of remarkable look.
Chor Chor Kee Lai Huat Vision to built the Kee Ancestral Home. Then the Sungai Bakap town and the surrounding areas with his two buddies.
A zinc house in Sungai Bakap was a gift from the Batu Kawan father in law to my Chor Chor. With that, he worked very hard to acquire dozens of shop houses, vast coconut and sugar plantations, town market and a theater.
Fortunately, his acquisition spirit did not extend to his personal life for he remained faithful to his wife who bore him six sons and two daughters.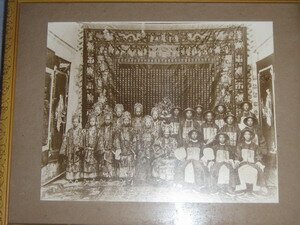 Chor Chor Kee Lai Huat vision to his six sons and two daughters were to lived frugally and to carry on the future generations and ensured that the kongsi was well maintained.
Well, those days six to ten families could lived in a big ancestral house. My fourth generation aunt told me when she was young, they were never short of playmates.
Every household had at least 10 kids and imagine 6 households, 60 kids would be out playing in the big courtyard. Those days, the courtyards have many pets and horses for the young children to ride on.
Under the matriarch Chor Chor, she single handedly carried on the traditions and customs of the Kee Lai Huat Vision.
Three of her sons, Tek Chye, Tek Kooi and Tek Pang carried on the family tradition of public services and were awarded Justice of Peace for Penang.
The matriarch Chor Chor Khaw Bee Gek passed on at the age 58 in 1902. Her remains were buried in Kee Burial grounds in Sungai Bakap.
Not bad at all for a simple man from Thenghai, Swatow Mainland China. Indeed a grand lady if not first lady of Sungai Bakap. Don't you think?
Go to Top of Kee Lai Huat Vision Page.
Back to Kee Ancestral Home Page
Back to Kee Kongsi Cheng Beng Page
Back to Kee Clan All Souls Day Page
Back to Province Wellesley Taochiews Page
Back to Kee Ancestors Lineage Page
Back to My Island Penang Home Page