Here is a quick Penang Introduction. It combines some facts, attractions for site seeing, beaches resorts to enjoy to your heart content.
We have an awesome and spectacular multicultural heritage of the major three races. Not forgetting being called the food paradise of Asia.
Some of the facts about our State Flag and Emblems, Our population, and our current head of Malaysia Penang state. The Capital of Penang is Georgetown, right in the heart of island.
Penang Map
You can say it is also the busiest with hotels sprouting in Georgetown Penang Introduction.
Tourism is centralized in the heart of town with heritage sites and traditional craft man still at work in many roads with old Chinese, Malay or Indian name roads.
Visitors are busy snapping away pictures of Penang Introduction. Really a sight to behold. Don't walk around without a Penang map.
Our Heritage Penang recently awarded the World Heritage Site and Penang flourished on diversity.Penang Introduction
This is reflected in the various types of trade and commerce transacted since its opening as a port, the eclectic architectural designs of its built-up landscape, its multi-racial settlers pursuing a wide range of livelihood and the varieties of food, clothes, festivals and celebrations.
Just walk around in our beautiful weather with your flip flops and sunglasses. Maybe an umbrella if you do not the tan.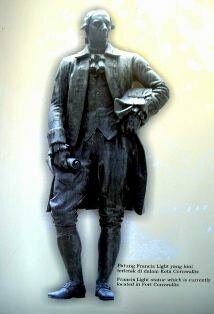 Penang's cosmopolitan population with its multi-cultural and multi-religious characteristics has been a dominant and familiar trait for more than two centuries.
Festivals, customs and traditions can be referred from our calendars. Locals festivals are most fun as you see it for real, no mock up for the sake of tourism.
The Penang History seems interesting on how a British trader from East India Company ends up being the founder of Penang Island, then Pulau Kesatu or Tanjung to the early settlers.
W.E. Maxwell's 'Notes and Queries' (1887) notes an account that appeared in Logan's Journal of the Indian Archipelago' of the voyage of the legendary Malay seafarer Nakhoda Ragam that gives an even earlier name for Penang. Read more from here.
If you choose Penang as your destination for holidays, would it not be good to know more about Penang Introduction or Malaysia. Especially how documents on visas application, extension of stay.Penang Introduction
We have Immigration office in Penang Island and Butterworth. If you need to applied for your spouse or join in other programs, find out from here.
So you have made your decision to visit us. In Penang introduction, I hope to advise you about how strict we are with Drug and all kinds of narcotics. It is a DEATH sentence for drug offenders. One cannot carry more than 15gms.
You have to understand our situation as in the 70's, we had more drugs addict than we could handle. Sleeping on the corridor on business premises was a common site then. Hear some locals and foreigners comments here.
There are some tips on taking care of your money and using our local facilities. Overall, better changed your money in Licensed Money Changer.
And just changed enough for your usage here as Malaysian money is not convertible outside Malaysia. Here is a currency converter to help you.
Alcohol
Malaysia is a Muslim country. Muslims are not allowed to drink alcohol. However, beer and liquids are widely available. Most of the Chinese restaurants serve beer and stronger local liquids (rice wine).Penang Introduction
The minimum age for consuming alcohol is 18. In Pulau Tikus and Air Itam, you will find toddy shops, where it is frequented mostly by Indians and locals.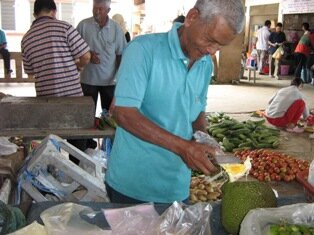 Of the three main races living in harmony in Penang. We have the Chinese, the Malays and Indians. A few Eurasians, Siamese, Burmese, Punjabi and Benggali not forgetting the Mamaks. The Chinese of Hokkien descent is the majority.
So you do hear locals of other races speaking Hokkien fluently.
Health Requirements
Smallpox and Yellow Fever vaccinations are not required for travelers entering Malaysia, except for those who have visited endemic zones 14 days (for smallpox) or 6 days (for yellow fever) prior to arriving in the country.
Children are exempted form this ruling, for yellow fever if they are under 12 months old, and for smallpox if they are under 6 months old.
Customs and Duties
In Malaysia, items such as cameras, watches, pens, lighters, cosmetics, perfume and portable cassette players are duty free.Penang Introduction
Deposit
Refundable when you leave. Visitors bringing in dutiable goods such as video equipment may have to pay a deposit of up to 50% of the value for temporary importation, refundable when they leave.
You are advised to carry the receipt of purchase. If you pay any tax or deposit, please ensure that you are given a receipt.Penang Introduction
Exemption
Tourist whose stay in Malaysia in excess of 72 hours is exempted from paying taxes on the following:
one quart bottle of liquor
25 gms of tobacco or 200 sticks of cigarettes
A pair of new shoes
Electrical and battery-operated personal appliances,
Foodstuff to the value not exceeding RM 75.00,
Souvenirs and gifts to the value not exceeding RM 200.00 Restrictions
Forbidden Items
Other forbidden items are pornography, flick knives, broadcast receivers of a certain frequency, goods from Israel, and animals like piranhas.
For more information, this site would have more:
Phone Service in Penang
Call your wireless provider for questions on toll-charges and service area availability before you travel. The area code for the whole of Penang is 04.
You will find phone booths all around the island. Phone cards can be bought at many local shops and stalls.Penang Introduction
Get more information on tips, charges, coverage's etc if you are coming from United Kingdom. Found in Penang Introduction page.
Post Office
Almost every town in Penang has Post Offices. The Main Headquarter is in Bangunan Syed Putra, near Weld Quay. Asks our locals when you get down the ferry services as you get in from Butterworth.
Driving Permit
All drivers in Malaysia are required a valid driving license. This can be a Malaysian driving license or a foreign driving license. An international driving license is accepted if the foreign driving license has been lost or is being renewed.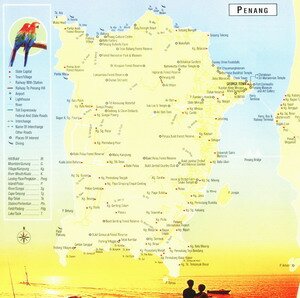 Dressing
Casual wear is accepted everywhere, swimsuits are acceptable at the beach, but if you go into a place such as the Post Office, government office or shopping, I recommend that you wear shorts and a tank top over your swimsuit.
For sight seeing, casual wear like tee shirts, or clothes made of light cotton or other moisture absorbing fabric is great.Penang Introduction
Flip flops, strappy sandals can be worn and are most comfortable footwear for walking or just enjoying our street hawkers in any part of town. Just to inform you though, Malaysia, being a Muslim country, there are NO nude beaches in Penang Introduction.
So when you are in public, it is advisable to dress decently, casual or full attire. Public nudity is an offense and you might land up in jail.
You can wear your swimsuits walking along the beaches or along the coastal areas and when you have to do some walking or touring in urban areas, please put on your casual clothes. Swim wear, sunglasses and sun block will be good for your fun time on the beach.
Evening Wear
You can be all dressed up, when going out dancing or out for dinner, in most up scale restaurants in the heart of Georgetown or in hotels, so please do put on your best suit or designer gown, high heels and shiny shoes and let's party!
Internet Access
Our internet access provider is TMNET and Jaring. In most major hotels, you can use the facilities or use your laptop in hotel rooms or in Hot spots or like Star bucks.
Some places in Penang have gone wireless. These days, we have WIFI and wireless service providers.
Laundry
Most hotels have laundry facilities in the housekeeping department. They are just a phone call away. Staying in backpackers lodgings, you are allowed to do your own washing and hang in out in the sun to dry like most locals.
It is a usual sight as you pass the kampongs or housing estates to see lines of clothes hanging in the garden, compound or don't be shocked as you look up the alleys in the back streets of the little towns.
In General
Penangite are gentle and discreet people. Please be considerate to your hosts.
Blatant displays of affection like French kissing, groping, fondling, caressing etc in public are a definite no-no. What you do in private is entirely up to you. In the open, go easy on that smooch.
If you visit a mosque or temple that is not usually on the tourist maps, it is a good idea to request permission from the caretaker on the premises. Moreover, they will often be able to tell you more than any tourist book.
Take off your flip flops or sandals; wash your legs before stepping into an Indian temple. Muslim would appreciate if you cover your head and not to wear shorts.
Smoking is prohibited in air conditioned public places by federal law. You will risk fines of up to RM 500.00 (not to mention the ire of non-smokers) if caught.
Keep your passport handy, but in a safe place. It is your only form of identification and is also required when changing money at banks.
Driving while under the influence of alcohol is a major offence and can involve steep fines as well as detention.
The wearing of seat belts while driving is compulsory.
When it comes to motorbikes, expect the unexpected from the drivers.
Crash helmets are compulsory while riding motorbikes.
Malaysia's traffic system still consists of "roundabouts" (traffic circles) and they are found almost everywhere.
Medical assistance is available in every town and city at clinics, or at local hospitals.
Local pharmacies can often provide assistance for minor illness or the proper material needed for minor injuries. You will need a doctor's prescription for any purchase of antibiotics.
Taboo Words on our Muslims Friends
We respect our Muslim friends so we try not to use Words like "work like a dog" or "I love pork". This is against their religion to eat pork, so we are mindful of using those words.
Emergency Service
Police, Fire and Ambulance call 999: For emergencies, you will be reconnected to a telephone operator, who will help connect to the relevant services.
Tourist Information
Please visit the Tourist Office. Smiling, helpful people are there waiting for you in order to help you plan a great stay and answer your questions. you can get free maps of Penang, great tips to enjoy your stay here.
In a lighter vein, maintain a flexible and relaxed attitude while on the island. After all, isn't that the reason why you are coming to here? To enjoy our peace, tranquility and warmth?
I wish you a healthy, safe, and relaxing trip to Penang, Malaysia. If there is any other information that you feel would be useful on this page, please send me an e-mail, your feedback is very much appreciated.
Go to Top of Penang Introduction Page
Back to Malaysia Calendar Page
Back to My Island Penang Home Page