The Penang Cooking packages will allow you to explore the possibilities of activities and event you can organized.
My classes are mostly private and it can be 1 person or 25 people. We can cater as there is enough tables and chairs to have a easy and comfortable time.
If you are a beginner getting ready to get married, we guide you even hand holding your hands. We shared our cooking skills to perfect yours.
If you are a family on a holiday and you want your kids to cook with you, our place is most suitable as we have spices and herbs grown all over our garden.
My idea is that, both kids and adults would want to know nature at its best, in our own garden.Penang Cooking Packages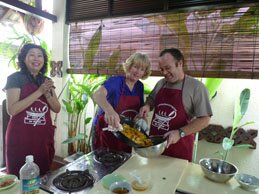 If you want to send your maid or wife to learn finer cooking style? We shared our time teaching your loved ones or maid to help you entertain your guest. You wife can now be a perfect hostess when you are entertaining.
Our Penang cooking packages are affordable, rest assured. For booking call or, write to us here.
Not only we take you to the whole new level to become the next great cook, we now take you to another level of fantastic eating galore with us.
Come and experience what is the real way to learn Penang cooking. We prepared to pamper you and hand guide you to step by step cooking to your heart's delight.
We know you will go back saying " this is the highlight of my trip in Penang". We want your guest to savor our authentic dishes only available in Penang.
What we provide for the cooking class day?
From beginning to end of lesson, we give you practical and friendly, no stress guidance.
All modern day cooking utensils.
Our lovely patio with spice terrace.
All cooking ingredients.
Fresh herbs and spices.
Individual cooking station in a homely ambiance.
Take home Step by step recipes sheets.
In other words, let us "manja you" or "pamper you" . Let me now share with you the packages we have done so far: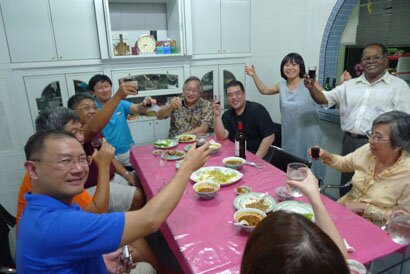 Types of cooking classes
1) Nyonya Monday, Register for Monday classes and you get to choose 2 packages. One with 2 dishes and the other with 3 dishes. The complimentary dish are reserved for you to cook if there is time. If not, I will dish up in a dash. All available in Penang cooking packages.
2) Street Food Wednesday, Yahoo rated our hawker or street food to be something you must not missed, so requests pours in to learn them.
3) Hot Indian Friday classes, South Indian dishes from Penang are different from that in India. Here I teach Nasi Kandar and South Indian food. Learn how to use raw seeds and turned to powders then paste for your curries. We will check with you how hot and spicy you eat, so it is ok to cook in Penang
4) Sunday Treats, this Penang cooking package is for students who loves authentic meal in one go. Though it is one meal, the process involves making your own sauces, gravy, crepes to complete a whole dish. Learning how to cut finely is one of the requirement of a great cook . Usually it is a 3 in 1 meal.
Other cooking classes
5) Demonstration Class, this Penang cooking packages are designed for groups of friends who wants to be together eating and laughing in a great environment. You may not be interested or want to cook. And you came for the fun to be together
6) Challegne or competition cooking, Tell me here. For booking, Call or, write to us here.
7) Vegetarian Cooking, strictly using fresh produce from market. No teaching using gluten to prepared vegetarian dishes.
8) Chefs wanting to learn Asian flavour to add to their culinary skills. Accomodation can be arranged too.
9) Private catering, a minimum of 50 pax is set for small catering. We packaged for lovers of good food. The dishes are your own selection. We cook and deliver to you. But we do not help you serve or do any clearing or wash up.
10) Or any food lover has special needs, like food cooked to your taste buds, more of this or that. For example, popiah solely roll in crabmeat. And money is not an issue. We take you on.
11) Surprisingly, for year 2012, request came in for teambuilding cooking classes. Staffs prep and compete against each other despite my advise to have fun, as it is not a competition.
12) Intrepid travel groups come with their agent for a cookout and they were good people. I am most impressed with the older guest, havign travelled all day and now being ask to cook. For them it was an adventure.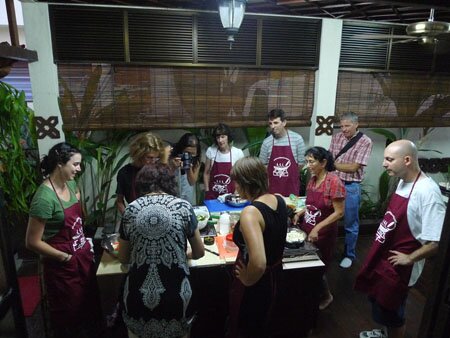 How to book Penang cooking classes
Best, is write to me at least 1 week in advance. We are pretty much based on first pay, we block the dates. You can write in even at the last minute but must be at least a day before.
Once the maximum 8 registrations and payment is confirm, we will block the dates. Only when there is a private or full booking, do I block the dates.
My best recommendation like some overseas locals did is write personally to me here so I can custom made a course for you. You can see the above list and choose and write to me or fill the form.
Go to Top of Penang Cooking Packages Page