My family circle page consists of mainly unsung heroes. Who are they?
My gregarious, bubbly, happy and chirpy daughter, my quiet and low profile son. My husband whom without his support I would still revisit our lovely turtle island.
But it is greatto be able to walk together down the street we use to hold hands more then 20 years ago.
And I won't forget some inter racial family relatives, nieces and nephews who enhances our life. So really quiet as they are, blushing when they see their photos or stories being told here, they are my loving heroes.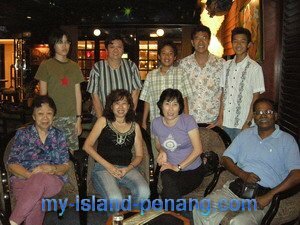 Without them, our world would be quiet and lonely. What wonderful support they have shown! This collection will go down as my family history circle news and bulletins.
Some of the family circle events would be events where you can learn more about our way of life. This is a very personal and heart warming page dedicated to all my family members, relatives and friends who are close to my heart.
It is always nice and easy to write about good events that has a Cinderella ending and we know it doesn't happen in the real world. It will not be easy when one has to write about family's member passing.
Should I write, it is because we loved our elder and wants to treasure the memories we have with them. You will find lots of photos, stories or news of my own personal family.
Read some of the family circle events that happened recently: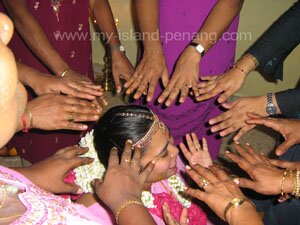 You see, we lived in the best of many worlds. Why? The multi cultural in Penang Island allows us the flexibility to enjoy each others traditions and culture.
My own family circle is no different as we lived in two worlds and we enjoyed the many worlds our country and state has to offer.
This is an important month for our family circle as preparation for our daughter's wedding is on the way. Traditionally, we enjoyed both the Chinese and Hindu influences in our lives.
We will shared the preparation details for the coming wedding of our daughter. But first let us share with you the Engagement ceremony that was held in our home 2008.
You would wish to be here as most of our neighbors pop over to watch the arrival of the groom as the Nagasvaram (Indian musical drummer and trumpeters) blew its way in the house.
The loud noise stopped them from doing everything else but watched in daze. Some even asked was it a wedding as it was so grand.
I must say since both parents of the intended are still feeling youngish, we were equally excited once we hear the sounding of the music and the arrival of the 15 pretty ladies carrying in the gifts.
Well, if you do not have enough of the engagement, watch a new engagement addition to family circle Yuvanes and Saravanam engagement here.
Drawing of Kolam is one of the most common and popular Indian culture. Whenever we have an event or function, Kolams are hand prepared by young marriageable ladies or young girls.
Here again the significance is profound. One way to invite the Goddess Lakshimi into your home. Make sure, I remind to make sure again, use edibles like rice flour, grated coconuts or sago flour to draw the Kolam.
When we celebrate, not only the Gods and humans are invited. The smaller creatures like ants, insects are warmly welcome to feast on the Kolams.
You see, there is no reason to be angry or mad when your food are being eaten by these smaller creatures. You have not thought of them in our hours of happiness.
Preparation and excitement for the family circle is in the air these couples of weeks as the date is getting nearer. Certain ceremonies which was not done has to be performed before she got married, according to her Patti, grandaunt (Chandra's Aunt).
So with that, the Pen Vaisu Vanthachu or most commonly known as Ruthu Sandangu or in plain simple English her Malaysian Puberty Ceremony must be held before her wedding day.
This Malaysian Puberty Ceremony marks the beginning of womanhood. For two weeks during her first menstruation, she is confined at home.
This isolation is deemed necessary by Hindus who believed that she is in a state of ritual pollution (thittu).
Watch more photos as I, myself was fascinated by the experiences and stories told by Aunt Kamachi.
The Hindus might be going through the second Jatakam with these coming of age rites, but me in my early fifties, I am going through the third Jatakam. A true learning eye opener experience!. Well, what can I say?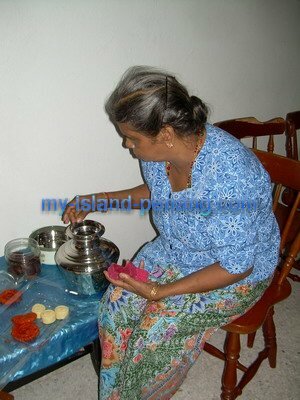 So we started shopping and shopping spree in the Aadi month can be quite fun. We make friends with some shop owners who gave us a reasonably good price.
Start by doing window shopping before we settle in a great shop and warm friendly smile before we purchased anything.
Anyway, there are more ceremonies coming in the forth coming week. So you can see this site is alive and photos are recent and personal. This month is going to be mind blowing with so many ceremonies coming along.
Some of rituals to be performed is a "kick ass" experience. When you don't understand it like me, you just do it!
Making sure all the wedding plans are underway without Chandra around can be quite a challenge. But Uva and Jivan make it lighter by arranging with the wedding planners.
Earlier in the year for family circle, Chandra had some fun with Ponggal at home. And watch more Ponggal as we did the ceremony at home, cooking the sweetened rice to ensure everything will be sweet for the whole year. Thaipusam is a must!
See our brother in law Mohan preparing his panthal. How about that? My son decided to make a vow and walk for his father who got sick. Hear my Thaipusam story. Patrick, a Chinese newly wed wrote about his experience in Thaipusam.
For me, going home to Sungai Bakap and connecting to my Kee's relative is a personal adventure. Learning family traditions and history became alive as aunts and uncles again told stories of yesterdays.
Rehearsal of Nyonya attire ceremony and tea ceremony rites, three more Sandangus (wedding rituals) by mother, aunt and herself. Oil Bath and a few more.
Come with me on our joyous celebration. It is an adventure for us too. Just simply, you are witnessing the rarest wedding in the world, a Mixed Wedding of Nyonya Strait Chinese to a Buddhist Indian family.
You see the reason, this site is created out of love for you both viewers or visitors to our Penang or Malaysia. I keep hearing people saying you just need 2 days in Penang and that is all.
It is not true as I might add, two days for each culture and now, how many cultures do we have.
At the minimum three but if you make friends in my island people, the warm and ever so friendly Penang people will invite you to our festivals and family circle, event and also family activities.
Our traditions and customs will blow your mind, we can be so modern yet when it comes to certain rituals and ceremonies, we are down to the intricate of it. You don't believe me?
Then write to us, Chandra and I will personally take you around Penang. I would if you want to see my Penang because I am so proud to be born here! Our Home Circle is a place where friends and family can come and have a fun time with latest information.
Go to the Top of Family Circle Page
Enjoy our Chinese New year with us
Watch our Thaipusam festivals yearly
Back to My Island Penang Home Page