Penang Food is my island Penang is home to one of the country's finest cuisine. It is well known as a gourmet's paradise along the long white sandy beaches.
Penang is a livable urban municipality with a setting of mixed culture of Chinese or various origins, Malays, Indians, Mamaks or Indian Muslim, Eurasians and some Thais.
Penang Food comes from, is like its people who are Chinese, Thai, Arab and Indian influence.These ethnic groups have also merged within the Malaysian ethos and are an intrinsic part of the culture and food of the region.
In this page, are some of my favorite varieties: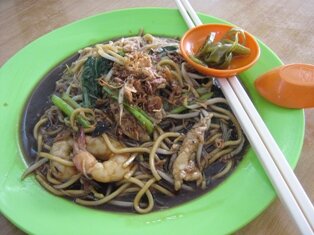 It is no surprise when Penang Hawker food can be remembered by all visitors and Hokkien Mee being really famous now. Our street food is ridiculously cheap, the warmth and ever smiling local hawker would complete your stay with our delectable food.
Peddling in food carts along the beaches or food courts, one finds food from all regions surrounding Penang Malaysia.Penang Food is Malaysia's center of good food and it comes as no surprise as we are unique in Malaysia because of our diverse culture.
Lor Bak, Wan Ton Mee, Mee Goreng or Mee Rebus, Satay Rojak brings back fond memories for you, I am sure. These are what we called street Penang food or hawker food.
With Asian dishes top on the list, the diverse Chinese dishes and Chinese food in the restaurant is also surprisingly affordable for a romantic dinner for two.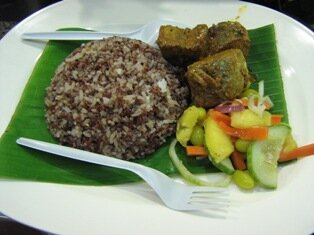 Traditionally, the lifestyle of Malays is one of agricultural and fishing. While fish is caught from nearby padi fields, rice is home grown on its home ground.
In the past, Malays tend to have these attitude that they do not need much cash as all needed is surrounding their compound.
Wild roots, herbs and tree leaves are (salad) ulams for their daily diet of Malay Penang food. Belachan is in almost every Malay recipe.
For breakfast, they eat Kuih (cakes) made from starchy grains and roots such as glutinous rice, sweet potato, tapioca, or sago palm. The pandan (screw pine leave) is used the same way the English would use Vanilla.
One Malay recipe dish stand out among the whole main course of dishes is the Nasi Lemak English dishes from English cuisine but prepared by professional chef who left the hotel industry can be found all over the island.
Fine class dining is one example. Their appetizer dishes as starters are mild, light and well prepared. Some gourmet dishes flicking up European recipe, Korean Food recipe, done as main course recipe is commendable.
The minority group of Eurasians. Portuguese or Dutch sailors also intermarried with the locals, forming a subculture called the Seranis.
Unlike the Chinese entourage of the Princess Hang Li Po, the Seranis or Eurasians as they came to be known, adopted the religion, language and cuisine of the Portuguese.
The Portuguese, like the Malay,were seafarers on a grand scale, and their cuisines blended beautifully, so you can imagine our Penang food being fused left and right.
The term Eurasian came to include the children of the Dutch and English liaisons with Malaysian women.
The Penang Food of the Eurasian community represents the deepest blending of the cultures of Malaysia, including the influences of Malay, British East Indies, Dutch, Portuguese, Indian, Chinese and Nyonya cooking.
Curry chicken recipe prepared by the Southern Indians Penang Food are usually hot and typically use spices like turmeric, coriander, ginger, aniseed, cummin and black peppercorn.
The chicken curry can be prepared wet or dry by adding coconut milk or santan.Tamarind is added for fish curry dishes to cut the spiciness. Thosai (rice and lentil pancakes), idlee (steamed rice patties), are served with dhal or sambal.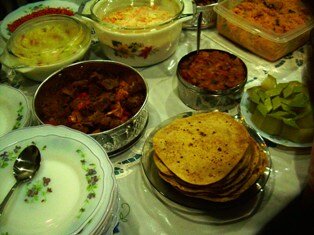 Chutney made from young coconut, mint, onion with coriander leaves are grinded and served in the morning or during light meals.
They will end their meals taking rice beverage which consist of rasam (a soup filled with pounded ginger recipe, fried spices and tamarind juices). Tairu or yoghurt, payasam with vadai is a must to eat on this banana leaf affair.
Southern Indian Penang food is different from that in India. You will not get to eat some of these dishes in India, yes! You can bet they are finger licking good. Oh yes, try using your fingers to eat, it is acceptable even with two fingers, ya1.
North Indian Penang food tends to be milder. The curries dishes features aromatic spices like cinnamon, cloves, cardamom, aniseed and saffon.
The masala recipe in food india uses cashew nuts, almonds and raisin. Dairy products like milk, cream, yoghurt and paneer (cottage cheese). The most popular of all and a new trend to eating are Mamak food called Nasi Kandar.
These Indian Muslims Penang Food are not rice cooker recipes. They are cooked in huge cauldrons. A typically main course recipes of rice based buffet with ten over curry dishes. The chicken or meat curries havea distinctive flavour.
You should try this Nasi Kandar flavored dishes with a mixture of curries from beef, mutton or chicken recipes.
Vegetarians dishes by both Chinese and Indians are a hit too as more people are getting to be health conscious. The soybean based vegetarian food, cooked and tasted like meat or seafood is a recent craze.
No garlic or onions are used by the strict vegetarians when cooking their dishes. Some vegetarians are allowed eggs in their diet.
The Peranakan Food or Nyonya Penang Food is another great choice of mix cultural food. Spicy, hot,sourish, salty from the Chinese cuisine and curry recipes and dishes from the Malay and Indian influences. The food is generally spicy with the use of sambal and curry.
The Nyonyas are famous for their kuih, like Pulut Tatai, Huat Kuih, Kow Chan Kuih 9 layers sweet cakes), Rempah Udang ( a cake made of glutinous rice stuffed with chukur kind of root) and prawns.
Some of the shrimp curry or fish recipes are unforgettable meal recipes. The Nyonya Penang Foodare enchanced with Thai influence while our Malacca Nyonya has Malay recipes elements.
This is one of the few things in life I love to do, our home cooking class. I have been putting it off but as I hardly write about food, there are many request of home cooking or whether guest can do crash cooking while on holiday in Penang.
Yes, since May, after many considerations and not wishing to let anyone down, my husband and I have invited some guest to our house for crash home cooking course. In our classes, we guide you to tips how to wash, cut and sautee your dishes.
Datuk Lim has been very inspiring, if you are lucky sometimes he is here in our house on holidays, you might benefit great tips from him like all of us did.
So inspire yourself and learn our chnear thor cooking, it is really authentic, all the goodness of home cooking.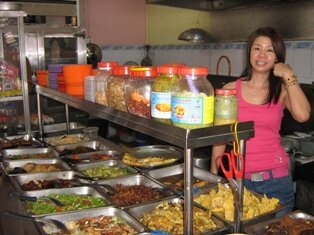 Lastly we have the economy food in Penang. Most office workers wishing to have rice as their staple meal will opt for these wide array of meat, fish and vegetable dishes. This Economy food is commonly called economy rice.
Usually in a coffee shop or kopi tiam, there will be 4 to 6 noodle hawker stalls. Tucked in the corner is the "economy rice" man.The wonderful dishes comes with porridge and rice.
You have abundance of Chinese prepared or Nyonya dishes to choose. You have over 20 to 30 dishes to choose from. Chinese or Nyonya food is a much chosen choice.
It is very economical to eat out in kopi tiam as a choice of 4 dishes with a plate of rice come to not more then RM5.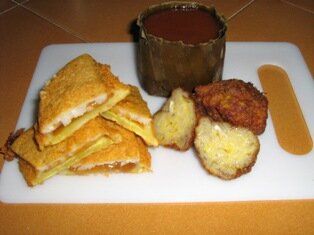 In Penang Food, we have the best cream of all dessert you can find in this best of Asia. Dessert is the only dish I have every week without fail.
It could be pudding, porridge, sugarcoated or syrup covered recipe dish. We must have the last moment of surprise to complete the meal.
There is no denying that our island Penang is a food heaven and we are reaping the fruits of this happy mixed culture. If you live to eat, Penang is surely a paradise for you to live.
Most of us have our own set of favorite cookies, be it the Chinese, Indians, Malays or the Eurasian. It is a must to have during any festive season and some are more popular than others.
See the ones I have been fascinated by. This is hard work so I learned to appreciate most of and it isn't difficult. Sweets or savoury, anytime we opt for local cakes and cookies.
And it is a big part of Penang Food. You have some favorites? Let us have yours.
Last but not least, we do have hand me downs traditional cures which we sometimes prepared or brew at home. I do share one or two. This is very personal as we cannot vouch to say someone has been cured by this or that.
We all made and tried it in good faith. If it works for you, I am pleased, if not it won't kill you. That I know as most of these recipes are hand me down. So try this Fruit Enzyme we have made upon recommendation by friends after Chandra got sick.
Going for holidays?
Cheap airline tickets are also demanding among people specially when they go for vacation with their families. Go for airlines that offer a very special package for travelers on online booking.
The spirit airline it is always been proud to offer low rate fares to its customers. They give full entertainment and excitement during journey.
Not enough of food, back to Nyonya Food Page
Need hot and spicy Indian curries?
Don't salivate, go for more Nyonya desserts
Home cooked but away from home food, try then if you are never invited to our houses or too shy to accept invitations.
Still have more space in your stomach, eat my cookies
Enough of wishing, come back to My Island Penang Home Page