"The Secret of making Kuih Kapit is in the santan. Coconut should not be too old", says 65 years old, Aunty Yean.
If old coconut is used, the Kuih Kapit can't stay crispy for long and it gives out a stale smell. In Hokkien, we called that Chow Eu Chiat.
During New Year, it is a local tradition to make Kuih Kapit. Also the significant of eating Kuih Kapit especially the roll ones because it symbolizes good harvest and prosperity.
I love eating this dainty Kuih Kapit (love letters),however slow you close your mouth, and it melts within seconds. It is hard to explain the sound of biting the Kuih Kapit.
Childhood memories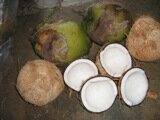 As Chinese New Year is near, I can not help but remember making Kuih Kapit in my younger days. Grinding our own rice flour and squeezing the coconut cream (santan) are things you can't forget if you have made Kuih Kapit before.
As a young girl, these duties are assigned to me and my sister when my aunt did the yearly kuih kapit.
When there is big orders, aunt would get her friends to help out as they need to use 24 moulds all in one go, sitting from morning till evening. I remember the whole house was full of ladies, working and gossipping.
My sister would be taking care of making 'kopi oh' and looking after the fire, putting more charcoal. While I have to fold the kuih kapit and getting my fingers scorched.
The first half hour of folding the kuih kapit is the toughest time. You need to get use to folding cos your fingers get scorched. The ahhs and the ooos can be heard as you try to shake the burning sensation off your finger to the stare of my aunties.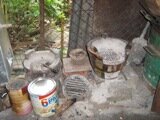 Unforgetable duty
Charcoal
Charcoal Grill
Storing tins or plastic containers
Kuih Kapit mould
Ingredients
1kg grounded rice flour. Hang or press using heavy object to dry out the excessive water.
30 eggs
1kg Sugar
3 not too old coconuts to make thick santan, no water should be added.
| | | |
| --- | --- | --- |
| Stone Rice Grinder fixed with an electrical handle for Kuih Kapit. | Wet rice left to dry out the water for kuih kapit. Min 6 hrs Drip dry. | 2.5 kg wet dried out rice flour and mix in eggs for kuih kapit. |
| | |
| --- | --- |
| Alternate sugar and santan blending it equally for kuih kapit. | Check by pressing to feel all sugar has melted then seive. |
Go to Top of Making Kuih Kapit Page
Back to photos of Ti Kuih Page
Back to step by step making Jam puffs page
Back to My Island Penang Home Page