The Teluk Bahang homestay has a kampong feel to it. Nature adventurers and trails is great for someone who needs some time away from their daily live in the city.To experience a kampong lifestyle in a relaxed atmosphere, this homestay can be said to have the ambiance of nature at its best.
Map of Homestay

View in a larger map
Photos of Homestay
This home with 2 furnished rooms is suitable for family escapes and people wanting to experience the kampong way of life.
| | |
| --- | --- |
| 2 rooms with single beds | En Aziz in the sitting room |
Waking up in the morning hearing the chirping of birds, coconut trees swaying to the breeze. And on rainy days, experience the howling of winds when big trees and branches hit against each other and sway against the strong winds. It is an unusual experience being lullaby to sleep by the strong winds.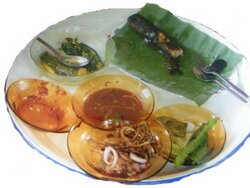 Traditional Malay lunch filled with kerabu and ulam (local Salad)
The ever warm and friendly owner En Aziz, wife even her parents are there to make you feel at home with traditional kuih muih or home made locals cakes for breakfast.
Eat with crossed legs and sample the kampong ulams' and kerabus' (local salads) for lunch is an experience you never forget. And during fruit season, this is the place to be as En Aziz arrange for fruits party.
Once you have finished your meal, enjoy a leisurely walk around Teluk Bahang and learn the local names of fruits and trees indigenous only in Malaysia. Our Teluk Bahang homestay guide, En Aziz is ever eager to share our customs and tradition one of which you should not miss is learning how to cook our local dishes.
| | |
| --- | --- |
| Korean enjoying home cooked lunch | Fruits party |
Get hands on experience as you play traditional games like congkat, kites flying or spinning tops in the cool afternoon outside the homestay.
Remember to listen to instructions as they are eager to share with you but if you want to win against them in the games. But these experts are the their best and be sporting to laugh it off when you lose.
What a life ,so enjoy it and let the fun filled experience stay lingering for another vacation!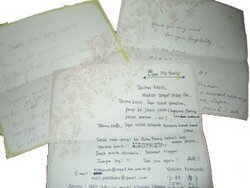 Letters from abroad
Generally, most visitors coming to Penang would choose Batu Ferringhi as a holiday spot. But lately Teluk Bahang seems to paved its way for its natural beauty and splendor. The peace, serenity and tranquility sets the mood for a laid back leisure weekend.
En Aziz the owner, shares with me fond memories of the guest who stayed in the homestay. Some still wrote to him thanking him for the wonderful time they had staying in his kampong domain.
Some Past Customers

Eating the kampong way

German nicknamed Yusof having
his hand on Batik drawing (3 months guest)
Teluk Bahang homestay offers an unspoilt environment and picturesque views. And most of all, the genuine smile from the guest is enough for En Aziz and his family to talked for days. This is one of the loveliest place in the northern part of Teluk Bahang for vacations and I could recommend you try it yourself.

Japanese guest playing congkat

International school student learning
about herbs and fruits
How to enjoy this vacation?
There are a few ways you can enjoy En Aziz Teluk Bahang homestay.
1 pax for RM65 per night with 3 prepared meals.
The whole house for family of six for RM250. No meals are provided
Fruits party, minimum 10 persons
Cooking the traditional kampong way, minimum 6 persons
Walking trails around the kampong learning the different fruits and herbs, minimum 6 person
Group package for Malaysian cooking
Group package for having Malay Lunch
Let me be your travel agent if you are going home or visiting other destinations. Hotel combined, an affiliation I trust has most of the hotels anywhere in the world which are affordable, even the pricey ones. Have fun in Penang and have a safe journey when you leave Penang.
Go to Top of Teluk Bahang Homestay Page
Back to My Island Penang Home Page