The Kuala Muda Whispering Fishermen
by Faith Watson
(Philadelphia, PA, USA)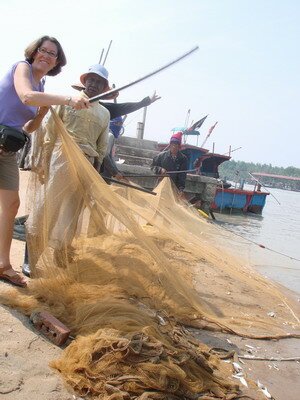 Faith Watson became Kuala Muda fisherman for the day
Pearly, Chandra and I drove to Kuala Muda, through rickety back roads with dirt crunching under the tires, chickens wandering between the tires, and I was sure I had discovered paradise.

At the very, very end of the road, goodness knows what it is called, we pulled up beneath somebody's wash, shooed the chickens away and walked right smack dab into the center of the open pavillion where the fishermen were trudging up from the beach, dumping their baskets full of fish onto the ground and potential buyers whispered into the fishermen's ears to bid for the fish.

We had our cameras at the ready and poked them into everybody's faces. Once we tired of that, we went down to the beach, following some of the fishermen up to the pavillion. Pearl decided that we should bid on a huge basket of an assortment of fish, crabs, shrimp, etc.

I asked what would be an appropriate price to offer, as if she were some kind of fishing expert. She suggested RM10.

I whispered it into one fisherman's ear as he leaned intently in to hear me, and then Pearly whispered. Another man whispered, and each of us tried again although I was not too sure that the fisherman understood English.

By the end, the man who was bidding against Pearl and me won the bid and off he went with the huge haul of fish, which we wouldn't have know what the hell to do with anyway.

We pushed our way through the fishermen to get back down to the beach where the fishing boats were pulled up and fishermen were clearing out their nets. I hopped up on one of the boats and began to help one group.


We were laughing, and I was trying my best, but apparently I ripped the net; when I jumped down, Pearl was laughing so hard that I was such a dumb foreigner and didn't realize I had gone to help but had ruined the fishermen's nets.


Day adventure with Faith Watson here.
As we were walking up the beach, a little fisherman with very few teeth, a little orange shirt and a filthy hat, banged into my chest and said in English, "Oops, accident" in a very funny accent. It was so blatantly not an accident that Pearl and I again began to laugh at the man's audacity and nerve to just bang into the front of me with no apology, just a twinkle in his eye and an "oops."
What a scene it was! Before we left we talked to some of the guys hanging around - all muslims. When I asked what they did up there, they smiled mysteriously and said they drank some brew made from a native leaf that made them high. I suppose that's the way the natives get around not being allowed in Islam to drink. Some solution!
Loads of love,
Faith in Philadelphia