Penang HomeCookingClass Registration was started after many months of encouragement from friends, relatives and lastly Datuk Lim. Home cooking creates an opportunity to learn how to prepare authentic local cuisine from an experienced instructor with hands-on cooking experience.
There is no need to worry whether you can cook or not. There are three types of classes, the beginners, gourmet and series.
Usually I will demonstrate how to prepare the first dish, giving you an opportunity to blend it slowly.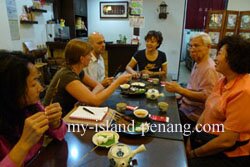 Gordon Ramsay crew Tom and Naomi enjoying Nyonya food in Red Chopsticks

And before I complete cooking the first dish, they student are ready to take over. So beginning the second dish is then followed without much worry. All worries are gone as we share some local tips and secrets, pitfalls to cooking.

Look at the schedule at Penang Home Cooking Registration as I am now teaching in Tropical Spice Garden cooking school on Tuesday, Thursday and Saturday in the mornings. You get to cook 2 dishes and it makes it real affordable.
Day

Time

Location

Sunday

Open

At my home called Shanta Niketan, Pulau Tikus

Monday

Open

At my home called Shanta Niketan, Pulau Tikus

Tuesday

8am till 2pm

Tropical Spice Garden Cooking School - Nyonya Cooking

Wednesday
Morning
Open

At my home called Shanta Niketan, Pulau Tikus

Wednesday Afternoon

2pm - 5pm

At my home called Shanta Niketan, Pulau tikus

Thursday

8am till 2pm

Tropical Spice Garden Cooking School - Nyonya Cooking

Friday

Open
 

Friday

2pm - 5pm

 At my home called Shanta Niketan -Thermo mix Workshop

Saturday

8am till 2pm

Tropical Spice Garden Cooking School - South Indian Cooking

Other days, I teach in my own home at Shanta Niketan. For adventurous guest wanting more then 2 dishes, register here for cooking in my home. See our location and set up here.
Sometimes they overworked me as their urgency is greater, coming very far away and making sure no minutes or hours are wasted.
See some of them here, luckily they arm themselves with camera. Some missed out alot as Chandra is sometimes away. Chandra, my husband is my sous chef, driver to my guest. So if you see an Indian man coming to fetch you, you know he is Chandra,ya!


| | |
| --- | --- |
| Holiday couple from Cairns, Ian and Lillian Efrat |   |
Created to meet the participants' needs and skill levels, classes are held in our home kitchen in Penang or over at Butterworth. We offer a wide variety of Penang and Malaysian cuisines and recipes.
Packages for two to 10 students, each class prepares four to six dishes giving everyone hands-on experience and the opportunity to learn new skills.Penang HomeCookingClass Re


gistration
Participants needs and skill levels
Here, you have to tell us your needs. A beginner is one who wants to start with the basic foundation that is what herbs and spice can be combined for vegetable, fish, chicken or meat curries. Modern cooking tools like blenders help you to make your job so much easier. We will share the basics of meat and poultry cutting.


Prague Peter and Tenlee
A gourmet is one that plainly loves the challenge to cook cuisines and some secret recipes. Penang HomeCookingClass Registration
Someone who wants to add more culinary adventures in their holiday here in Penang. Penang HomeCookingClass Registration
Like it or not, Penang cooking is unique and very flavorful. It does adds more value to your cooking skills to know about Penang local dishes and cuisines.


Duration of Penang Cooking Class
Classes are 3 to 4 hours for 3 or 4 dishes. It includes food preparation, cooking and dining. Classes commences in the morning at 10am and ends after lunch. Evening classes are available by arrangement.
| | |
| --- | --- |
| USA Marn Yee, Gary, Matt and Ally tasting Nyonya Mixed Veg Curry |   |
Standard cost is based per person approx RM250 for 3 dishes. We accept Western union, Local cheque or Pay Pal, this payment is inclusive of all cooking ingredients.
Nyonya Cooking 1 - Some Party Food
See some dishes and photos here.
Nyonya Cooking 2 - Desserts and Local Kuehs or Cakes
Knowing how to cook Nyonya food may be good enough. But it makes you more rounded if you dare to bake or steam the kueh muih.
Penang
HomeCookingClass Registration
| | |
| --- | --- |
| Anandi cooking in Penang | Singapore Fiona Cooking in Penang |
Nyonya Cooking 3 - Traditional Festivals Cooking
You can even surprised your mother in law with some everlasting Traditional Nyonya festivals dishes. Some beginners who learned much earlier told me the dishes they took home were tested by their mothers in law. I hope not to let you down but instead you will be the center of talk of the elders now.Penang HomeCookingClass Registration
So far, we are the only Penang cooking class who does not demo cooking. We give you a place to cut and prepare the food item for your own cooking, on your own cooking station. See Penang Homecooks cooking set up work station here
How to register?
| | |
| --- | --- |
| Vanesia diligently completed Nyonya 1 (8 weeks classes) |   |
Comfortable all who have come to learn with us prefers the 3 dishes package. For RM250 per person or RM600 per couple, you get to cut, cook and eat to your hearts content.Penang Home Cooking Class Registration
But having said that, we also have very excited cooking food lovers who challenge themselves to cook 6 dishes which include preparing desserts and drinks. Penang HomeCookingClass Registration
I have guest eating their lunch then packing back to the hotel to have dinner later. So I leave you to think whether they are happy with the food. You tell me,ya!Penang HomeCookingClass Registration
Some surprises in the pipeline
Watch out for Keam Chang, Nyonya Chang and Kee Chang. Or another is Moon cake if I can photograph and recipe them in time. If not, there is always next year.
Busily and heavily preparing Tuesday classes, guess what....Nasi Kandar classes. Check more often to find out when we are commencing.
| | |
| --- | --- |
| Look for us every month in Little Penang cooking Malaysian food | |
For specific search results for keywords related to My Island Penang.com, please use the following search box: